Are you concerned about keeping your dog warm during the harsh winter months?
Dependable winter coats might just be what you need. Check out this list of the 10 best winter coats for your dog.
You would find several versatile winter coats that you can use not just during cold weather conditions but also during the rains. So, the weather doesn't have to stop you and your furry friend from going on your morning walk.
These coats can keep your dog feeling cozy and warm all winter.
What should you look for?
Ease of use -not all dogs patiently allow you to meddle with a complicated closure on the coat. Pick something that easily slides on to the dog and is also easy to remove.
Ease maintenance – washable coats that also dry and retain their shape after a wash would be the best ones to invest. These are the ones that you can wash and store when winter finally ends and use the next year.
Consider the size – look into the details of the coat dimensions and pick one that suits the dog's size. A comfortable fit is something that is neither too tight nor too loose.
Inner lining– fleece is one of the most common choices for the inner lining in the coat. This wicks moisture away and keeps the dog feeling dry and warm.
Waterproof exteriors – these are coats that are suitable to be used in snowy weather and also during the rains.
Leash ring – a built-in leash ring helps add the leash directly to the coat instead of adding another harness or collar.
Picking coats that fulfill these needs give a choice that keeps your dog comfortable and protected from winter weather.
The Best Winter Coats for Dogs in 2021
Summing up all the favorable parameters here are some of the most popular choices-
1. PETCEE Waterproof Winter Coat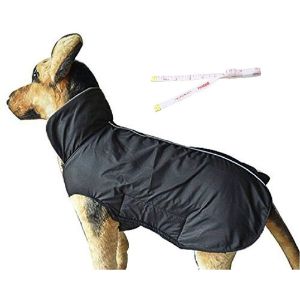 Designed as a snowsuit, this coat is comfortable for outdoor activities. Elasticated bands on the neck and chest region provide a secure fit. To complement the waterproof polyester on the outside, there is a soft fleece lining on the inside. The reflective brim provides night time safety. The hole for tethering the leash allows easy access to the harness with the coat on.
2. Kuoser Cozy Waterproof Winter Coat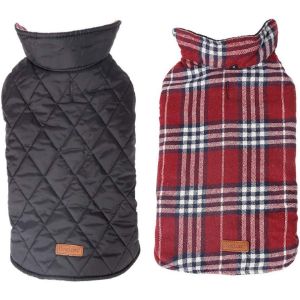 Reversible coats like this are stylish additions to your dog's collection. Polyester blend fabric is on one side and terylene cotton on the other, this one helps retain warmth. For better insulation, there is polyester fiber filling. Featuring a lightweight design, this is also a windproof jacket.
3. JoyDog 2 Layers Fleece Winter Coat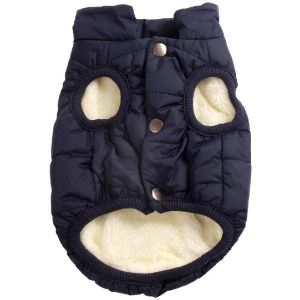 Designed for extreme winters, this one has a double fleece lining. The durable polyester fabric on the outside gives a chic look while also keeping the coat lightweight. Cinched elasticated bands at the belly and feet offer snug closure preventing the coat from flying off in a windy region. Sturdy metal snap buttons complement the looks and keep the coat firmly in place.
4. Kurgo Winter Coat for Dogs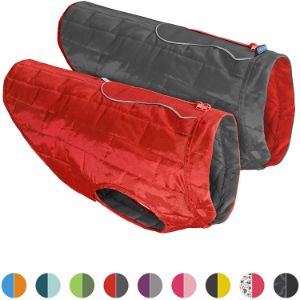 The lightweight travel-friendly design allows the dog to be active no matter what the weather is like. Its relaxed fit design allows wearing a sweater underneath. The customized fit of the coat is possible with the hook and loop closure at the belly region. Made of water-resistant material, this is a reversible coat. Designed for outdoor adventures, it is a tear-resistant material that makes the coat last long.
5. Zack & Zoey Polyester Blanket Winter Coat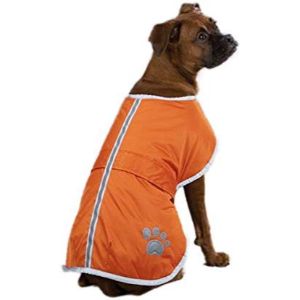 Fuss-free design and protective exteriors keep the dog feeling warm when the temperature drops. To keep the dog feeling warm, there is a fleece lining on the inside of the coat. It is a reversible coat with camouflage print on one side and solid style on the other. There is a huge diversity of choices available in terms of the size of the coat. It is suitable for all types of dog breeds.
6. Scheppend Adidog Pet Winter Coat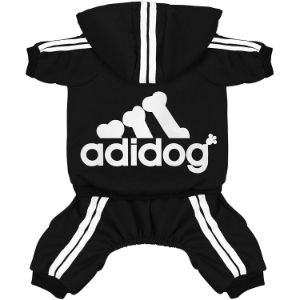 Sporty sweatshirt like design brightens up a cold winter day. This is an affordable premium winter coat in a jumpsuit design. Breathable fabric keeps the dog feeling comfortable during all weather conditions. With elasticated bands at the limbs, this one is easy to slide on the dog.
7. Howstar Cold Weather Winter Coat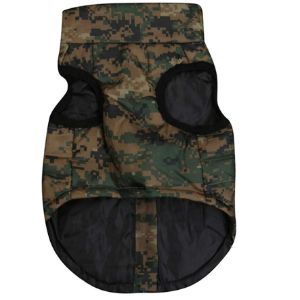 Available in beautiful prints, it is a warm padded machine washable coat for dogs. This is one of the most affordable options which is suitable for milder winters. It is a sleeveless vest with a zip closure on the rear side. Double D-rings on the back makes it easy to attach the leash to the coat.
8. RUFFWEAR — Quinzee Insulated Winter Coat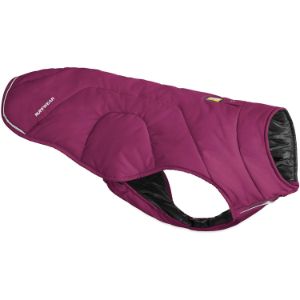 This is a compactly folding coat perfect for carrying when you travel. Stretchable fabric allows the dog to move and run around comfortably. To provide dependable protection from lower temperatures, it provides good coverage and insulation. Finally, to allow ease of use, there are side release buckles.
9. Fitwarm Waterproof Windproof Winter Coat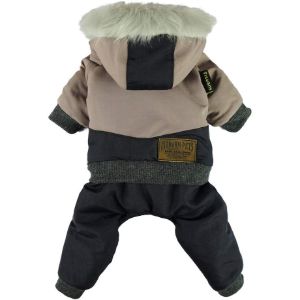 Designed particularly for small breed dogs of all age groups, this is a pretty looking winter coat. Water-resistant material on the outside protects the soft inner lining. Easy snap button closure allows you to quickly put on or take off the coat. There is a soft fur hood for added warmth for the ears.
10. Didog Reflective Dog Winter Coat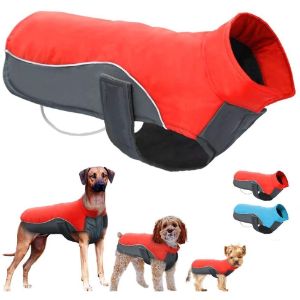 Suitable or small and medium dog breeds, it is made of splash-proof nylon exteriors. Reflective stitching adds to the safety at night. To access the harness ring, there is a convenient cut-out. Fleece lining feels soft and comfortable for the dog. For a snug and secure fit, there are elasticated bands. With all these benefits, this is a machine washable coat, a durable one too.
Fleece lining and waterproof exteriors are some of the most common features in most winter coats. These keep the dog dry and warm. With these warm coats, your dog stays shielded from chilly winds and cold weather conditions.

Was this article helpful?