This is a subject that has been a topic of controversy among veterinarians and owners of dogs for quite a while.
Some think cheese is healthy for dogs while others feel it is toxic. With this statement, both thoughts are correct. Feta Cheese is one that a dog should not eat. It is not toxic for them but it is definitely not good for them due to high sodium and lactose content. The high lactose content makes it too fatty for a dog.
Can Dogs Eat Feta Cheese?
As stated, it is not toxic for a dog to have it and if the dog has a high lactose tolerance the lactose in the cheese would not bother them all that much.  The sad thing is that dogs seem to like the taste of the cheese and is a delicious treat but it is suggested that you do not feed it to your dog. 
As with any cheese, there is lactose in it.  Lactose is a sugar that is present in milk and most dogs are lactose intolerant.  This means that your dog cannot digest milk.  Only some breeds have high lactose tolerance.
This cheese does have a lactose content that is less than some other cheese but a bit too high for many dogs. When a dog has feta cheese, their digestive system is not able to tear it down so it stays in their stomach undigested. This will cause your dog to have pain in the abdomen. They may also experience bloat, diarrhea, gas, and vomiting.
Dogs should not ever be given a lot of foods high in fat. In their diet, there should less than 10-15% fat. Eating too many fatty acids will not just make your dog too fat but it can increase their risk of heart issues and pancreatitis.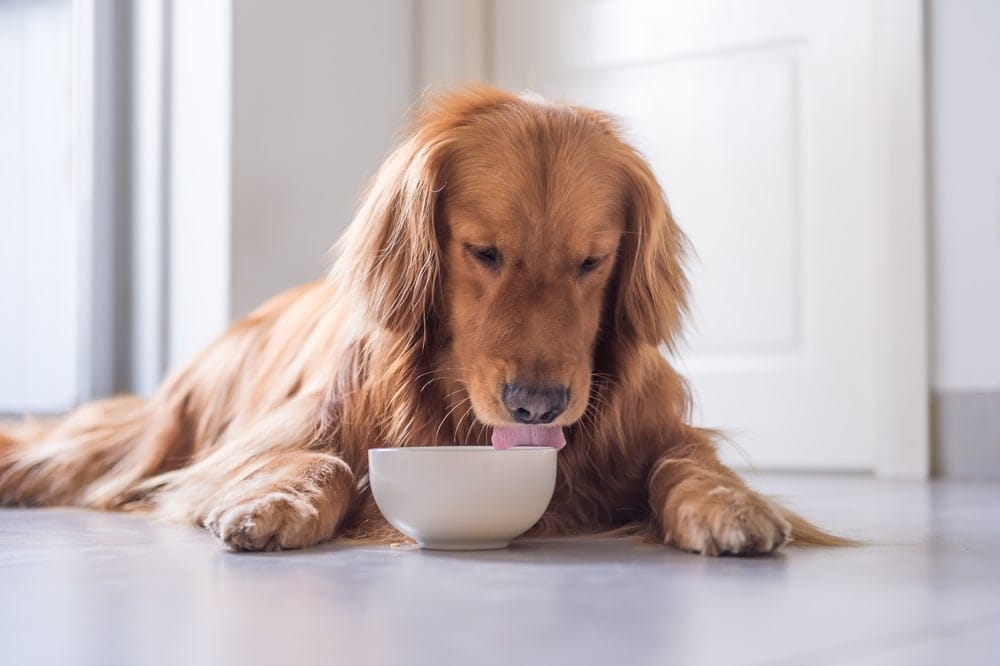 My Dog Ate Some Feta Cheese
You leave a piece of feta cheese on your plate and or drop a piece and your dog snaps it up.  What is going to happen now? Truthfully, a few crumbles are not going to hurt your dog but if it your dog eats a small cube or bite, then it could be a bit more serious. 
Since dogs are lactose intolerant, you can expect them to have some of the symptoms that are mentioned earlier in the article; upset stomach, diarrhea, vomiting, and gas.  If your dog eats a lot of feta cheese or eats it regularly you should not have to worry.  
When you notice any of the symptoms you should take your dog to the veterinarian to be sure that there are not going to be any long term effects. After eating cheese, you can expect your dog to have a dry mouth so make sure you are offering them plenty of water. Make sure that you keep your dog as calm as you can. It is possible that if your dog starts to vomit or have diarrhea, they may experience lethargy.
Cheese That a Dog Can Eat
Although dogs should not be fed cheese every day, these cheeses are okay to give your dog maybe once every couple of weeks. Not all dogs like cheese so they may not even want it. If they do not appear to be interested when you are eating cheese, then there is no need to offer it to them and get them started wanting it.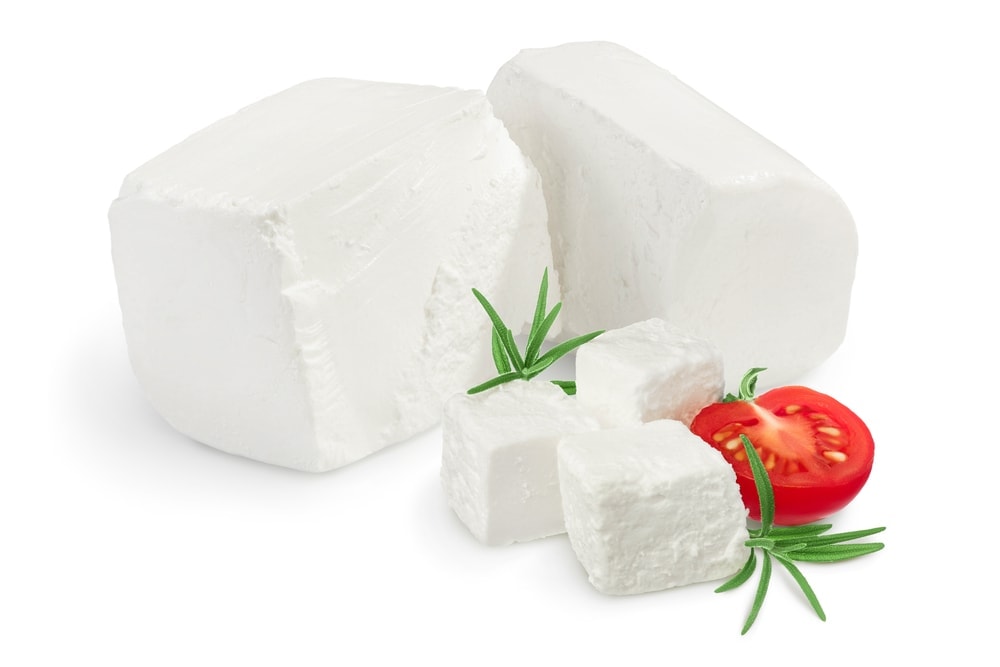 Cottage Cheese: This is high in protein and has comparatively low fat. This is okay for a dog that is not lactose intolerant and is good if your dog has a protein deficiency. It can also cure diarrhea. They can have no more than a tablespoon.
Cream Cheese: This has to be plain with no onion, garlic, or other ingredients that are toxic. You can give them a small hunk
Cheddar Cheese, Swiss Cheese, Parmesan Cheese: These cheeses are low lactose content and your dog can have a small amount.
String Cheese: Because of the strings it is not recommended that you feed it to little dogs. If you have a larger dog that you want to put on some weight, this is a good cheese to give them. Give your dog the cheese in small amounts because it has a high-calorie value and you don't want your dog to gain weight too fast.
Cheeses You Need to Avoid
Although there is a shortlist of cheeses that your dog can have, the list of what they cannot have is long. The following cheeses should never be given to your dog, even if your dog might beg for it or how lactose tolerant they are.
French or Blue Cheese: These cheeses are very high in fat content and have a lot sodium. Blue Cheese also produces roquefortine, which is a chemical that is poisonous and can kill your dog.
Flavored Cheeses: All of these cheeses have at least one ingredient, sometimes more, that can be toxic to dogs. Some have avocadoes, onions, garlic, and other ingredients that can be toxic. Some have preservatives and artificial preservatives that can be harmful to your dog.
Goat and Brie Cheese: These are bad for your dog for the same reason as feta cheese.
Conclusion
This cheese can be dangerous or toxic for your dog if it cannot digest lactose. Mozzarella cheese is low in fat and sodium and can be used occasionally as a treat for your dog that is lactose tolerant. You do need to be careful with giving your dog this cheese as it has one of the highest lactose content.
Since most cheeses are bad for your dog giving them some treats that are cheese-flavored and okay for your dog to eat.
Always read the ingredients on any cheese flavored dog treats to be sure they do not have any dairy, real cheese, or toxic ingredient.
Even the pickiest of all dogs love cheese but make sure that it is okay for them to eat the small amount of cheese that they are begging for. If in doubt, do not give it to them and give them something good for them.