Before you go ahead and buy a horse, you'll need to know what to expect in terms of cost.
There are actually a number of factors that you'll want to consider before you begin looking around. Most people don't realize just how many different expenses are involved with owning a horse.
Before You Buy a Horse
There are some things that you'll want to make a point of doing before buying a new horse, including:
1. Consider Your Needs
It is a good idea to consider your specific equine needs. Some horses are good for trail riding, while others are bred for racing. When you take this into consideration, you will be able to make the best possible choice overall.
2. Get a Veterinarian to Examine the Horse
Before you actually spend any money on a certain horse, you should get it examined by a veterinarian of your choosing. This way you can find out if there are any major problems with the horse that you should know about before putting any money down.
3. Your Budget
You also need to determine whether or not you can afford to buy and keep a horse year in and year out based on your budget. The last thing you want is to make this sort of a commitment if you don't have the finances to follow through on it.
The Cost of Buying a Horse
Buying the horse alone can easily cost you a few thousand dollars. The cost of a horse is largely determined by its age and breed, though there are other factors at play. The overall health of the horse is something else that will affect the final price.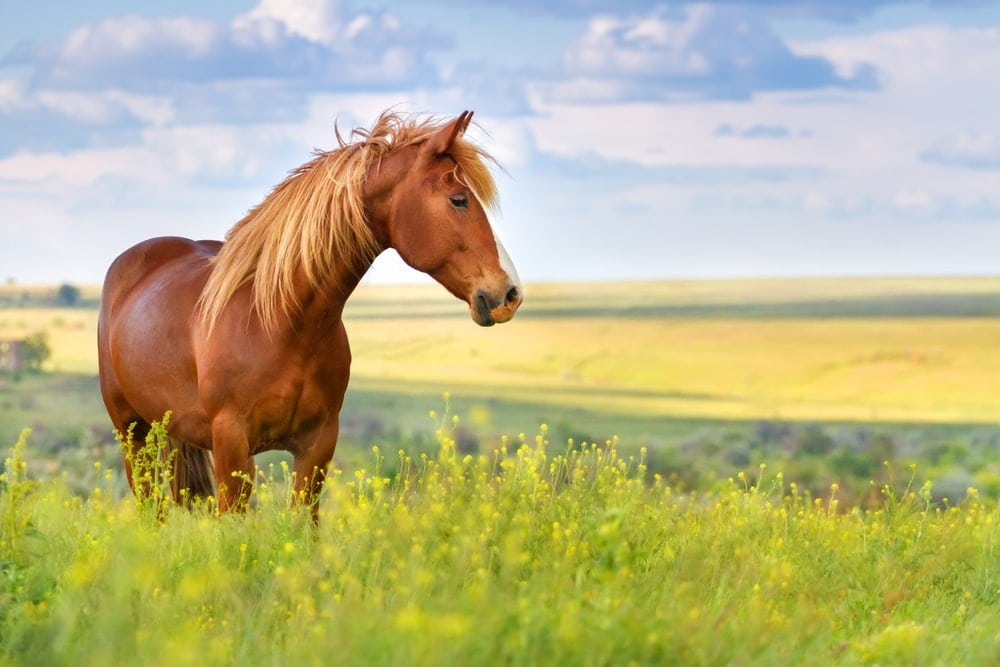 Ongoing Costs of Owning a Horse
If you are going to own a house, there are certain ongoing costs that you will need to be aware of.
1. Stable Boarding
Those who plan to board their horse in a stable will need to pay a monthly fee. This fee could be anywhere from a few hundred to a few thousand each month. This includes the cost of shelter, water and food for the horse. It also covers grooming and other basic services for maintaining your horse's health.
Stable boarding is the best option if you live in an urban area. While it is more expensive than housing the horse yourself, it does save you a lot of time and effort. Make sure that you take the time to find a good place to keep your horses before making a final decision.
2. Food
If you don't plan to pay for a stable to keep your horse in, you will need to buy food for it on a regular basis. The type of hay that horses eat can be rather pricey, depending on what you get. You could pay just a few dollars for a half bale of hay each day, or as much as ten dollars. You can probably get away with spending $50 to $100 on hay each month.
It will also be important to provide your horse with a mineral supplement so it stays healthy. You should be able to get six months worth of such supplement for around $25 to $30. This is one of the cheaper ongoing costs of owning a horse.
Keep in mind that you will need to buy more food for your mare if it becomes pregnant. A pregnant horse eats significantly more on a daily basis, so you must budget for this.
3. Healthcare Costs
There are also certain healthcare related costs that you will need to cover for your horse, including deworming. Dewormer usually costs around $20 for a period of three months.
Dental services will sometimes be necessary for your horse, especially as it gets older. A basic dental examination costs around $150, and it should be done at least once each year.
You also have to pay to get your horse vaccinated for rabies, equine influenza, and rabies. You can expect to pay a minimum of $100 per year for vaccinations alone.
Veterinary bills for horses can be very expensive, even when it comes to a basic checkup/examination. You will need to find a veterinarian who specializes in horses. It is important that you get a checkup for your horse at least every six months.
Surgery for horses costs thousands, if not tens of thousands of dollars on average. A seemingly simple problem with one of these animals can result in a very steep bill from your vet.
You should have at least $5,000 set aside for veterinary/healthcare costs for your horse each year. The older your horse gets, the more likely it is to develop health problems that require treatment.

4. Cost of Lessons
If you have never owned a horse before, you might want to take lessons on how to handle one from an expert. These lessons can easily cost around $100 per session. You might also want to pay someone to train your horse, which can be even more expensive.
Spend some time looking into the different horse trainers in the area. Get quotes from some of these people while researching their reputation so you can get the best overall deal.
Conclusion
Buying the horse itself can easily cost a few thousand dollars. Some breeds are more expensive than others.
You can expect to pay a lot of money for a horse that has been bred for racing, like a thoroughbred or a Clydesdale.
Make sure that you first take a look at your budget to find out how much you can afford to spend on a horse and the ongoing costs of keeping one.
Feeding your horse will cost around $100 per month, which includes salt blocks and hay.
You will also need to spend money to get your house vaccinated, as well as regular checkups.
Stable boarding can cost thousands of dollars per month, but it will save you a lot of time and effort.
Make sure that you have at least several thousand dollars set aside for healthcare expenses each year.
The average cost of owning a horse is around $4,000 annually.