Horse riding sport is quite an expensive thing. Buying a comfortable saddle is an important part of succeeding in this sport. Because they are so expensive, you need to take well care of them. If properly cared for, a saddle can last for decades.
This is a supportive structure that is made out of leather and fastened to the back of the horse to support the rider. They are available in a variety of designs and styles and they do require a careful fit for both the horse and the rider.
How Much Does Riding Saddles Cost?
The average horse saddle will cost you around $500. But the prices are influenced by many factors and the main ones are quality and materials it is made of. While some saddles will cost as low as $100, others can go up to $ 10,000 or even much more.
Horse saddle cost from a few hundred dollars to thousands of dollars. Make sure that you purchase your saddle from a reputable company as they will have standard saddles in a variety of fits, specifications, and styles.
The one disadvantage of buying from a company is that you generally need to buy what is available. They do not sell custom saddles. If you cannot afford a new saddle, check on used saddles as these are an affordable option but be ready that good-quality saddles might be quite expensive.
Poor-quality saddle —the price ranges from $200 to $600 and generally does not last longer than five years. They are usually made of synthetic leather material.
Higher-quality—the price ranges from $700 to $1,500. They are made of a more durable based material and last as long as 40 years. The higher price ones are made of leather.
Well-dressed—the price ranges from $2,000 to $2.500. This is a saddle that is packed with all the bells and whistles.
A Western saddle can cost new $700 to $1,500
An English saddle can cost a new $400 to $7,000.
Hunting saddle—the prices range from $1,500 to $3,100 and is perfect for hunting. It is designed to push the rider's feet toward the stirrups and the weight of the rider back in the saddle. These are used for fox hunting.
Racing saddle—the price ranges from $700 to $900 and is lightweight with short stirrup leathers and flat seat, designed so the rider to crouch over the saddle.
If you are looking for good quality Circle Y saddle (trail saddle) be ready to pay $1000 to $3000.
If you want to buy saddle you can pay attention to such websites as eBay or Craigslist or check local auctions around the place you live.

What To Look For In a Saddle?
Although there are many websites from which you can purchase a saddle, it is recommended that you see a saddle expert so they can determine the proper size. You want to buy the best that you can afford for durability, safety, and comfort. If you are looking at Western saddles, do not be fooled by the fancy silver accents and ornate carvings.
Some of these are done by craftsmen using accurate silver fitting and hand-tooling but these are mostly expensive show saddles. Others can have cheap leather, machine stamped designs, and nickel fittings that are trying to distract you from a saddle that is of poor quality.
A good saddle is made of fine grain leather with small leather pores and the saddle feels supple and smooth. With a lower quality leather saddle, it will feel more like cardboard and have visible coarse pores.
Extra Costs
When purchasing a saddle, there are accessories that you will also need to purchase, which will add to the overall cost of the saddle. For example, if you are purchasing a Western saddle, you will need either a saddle blanket or pad. To fit your horse, some saddles may require alterations. Because of the weight of the saddle, some retailers may have a cost to ship it.
Types of Saddles
1. Western
When you are looking for a Western saddle, you need to decide what type of Western ridding you are going to do. A Western saddle is categorized by what you are going to use them for, the technique used to construct the saddle, the materials they are made from, tree types, and more. Some of these types of Western saddles include ranch, pleasure or trail, cutting, reining, roping, barrel racing, show, and more.
The Western saddle was designed especially for cowboys who spent long days in the saddle. They are much heavier, with a contoured cantle, and stirrups. The most obvious feature is the horn, which is used by the rider when they are working cattle. This type of saddle has no padding so you have to use a saddle blanket or pad with it.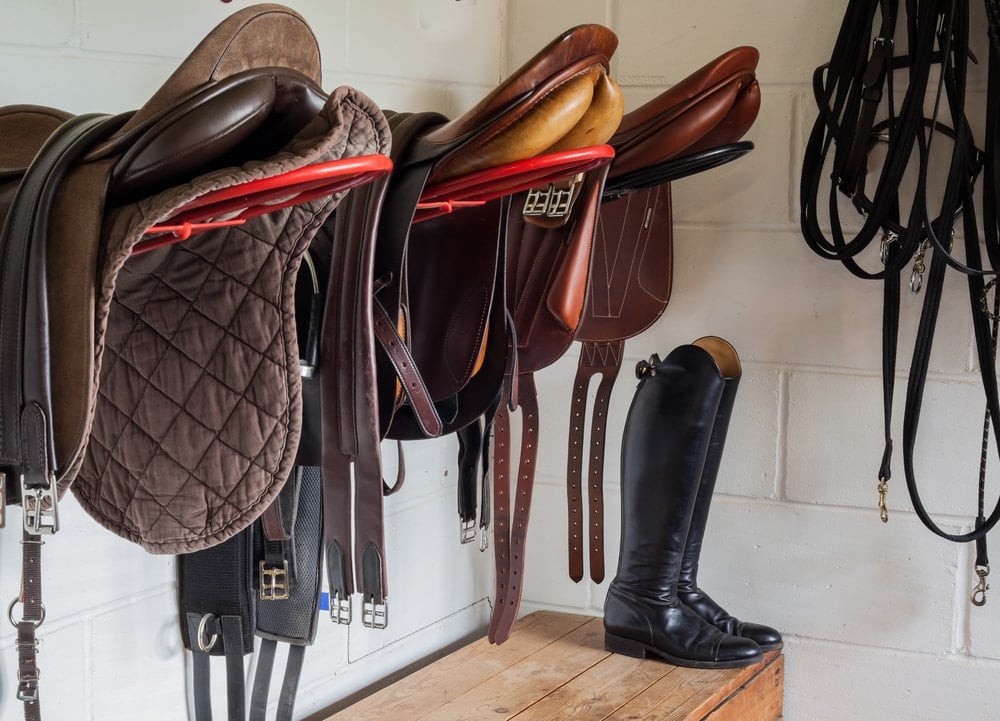 2. Eastern
This type of saddle is used for horse events, show jumping, polo, all types of Olympic equestrian events, and horse racing. It has a flat appearance with self-padded panels that rest on your horse's flanks. There is no horn on this type of saddle. An English saddle has closer contact with a horse's back and lighter than a Western saddle.
This type of saddle is stuffed with some type of foam or a mixture of acrylic fibers and wool. There are many types of English saddles, which include dressage, close contact jumping, or a general-purpose saddle. The general purpose saddle is used when the rider does both jumping and dressage.
3. Custom Made
These saddles can be either Western or English and are made by professional saddle makers. These craftsmen will take casts of your horse and you to make sure that the fit of the saddle is to your specifications and as exact as possible. For a custom saddle, the price will be in the thousands of dollars.
Conclusion
For new and used saddles, check the condition of the leather to make sure there are no cracks or dry rot, especially a used saddle.
If you are buying from an individual who claims the saddle is new, checking the leather will help you know if it is used or new.
Check the stitching to make sure that it is holding the saddle together.
Buying a well-used saddle has advantages in that the leather may be softer because it is broken in and will make the ride smoother.
Many places where you purchase a saddle have a strict return policy so make sure that you know what it is in case you want to return the saddle.
Frequently Asked Questions:
Do all saddles fit all horses?
There is no one international standardization in the industry for a Regular tree and a Wide tree so different horse saddles brands will fit differently on the same horse. The same English or Western saddles made in different countries might be different sizes. The fit may also vary among disciplines and the rider's preferences.
Do you buy a saddle to fit the horse or the rider?
It may sound complicated, but ideally, you should find a saddle that suits both you and your horse. If the saddle is too small or too big for you, it will cause discomfort. The wrong size of your horse can give poor back protection or just as well discomfort when riding.
How long does a saddle last?
Depends on the quality or the brand but on average Western saddle should be replaced every 20,000 km (approximately 12,000 miles). Of course, you can use your saddle after this mileage but the performance of the padding might get worse or cause discomfort both for the horse and for the rider.
How often should I clean my saddle?
If you ride your horse quite often or even daily, we recommend that you clean the saddle once every seven to ten days. Regular cleaning helps keep it hygienic and safe for your horse's health and provides comfort while riding.
Was this article helpful?