There are lots of different brands to choose from with cat food, but you'll need to do your research before making a decision.
The fact is that some of these brands have a better reputation than others. Friskies is a well-known name in cat food, but how good is it for your kitty?
Is Friskies Safe for Cats?
While not everyone agrees that Purina Friskies is the best cat food in the world, it is safe for cats to eat. This cat food is made entirely in the United States under strict quality control guidelines and regulations. You, therefore, won't have to worry about your cat's health or wellbeing at all.
There are, however, some products this brand offers that contain potentially carcinogenic ingredients. The formula that many of these cat food products offer is not ideal for cats due to the multiple artificial ingredients as well.
Friskies Products
There are quite a few different cat food products that Friskies offers, and it is important that you look into some of them.
1. Shreds Chicken and Salmon Dinner
Friskies Chicken and Salmon Dinner is a very popular offering from Purina. It contains a lot of protein and not much fat, which is always a good thing for cats. It also has tons of vitamins and minerals to keep your kitty healthy.
There are, however, a number of drawbacks to this food; it is very high in carbohydrates, which could cause your cat to become overweight. This food also has by-products, which isn't ideal for cat food. The artificial flavors and colors also found in this cat food are somewhat concerning as well.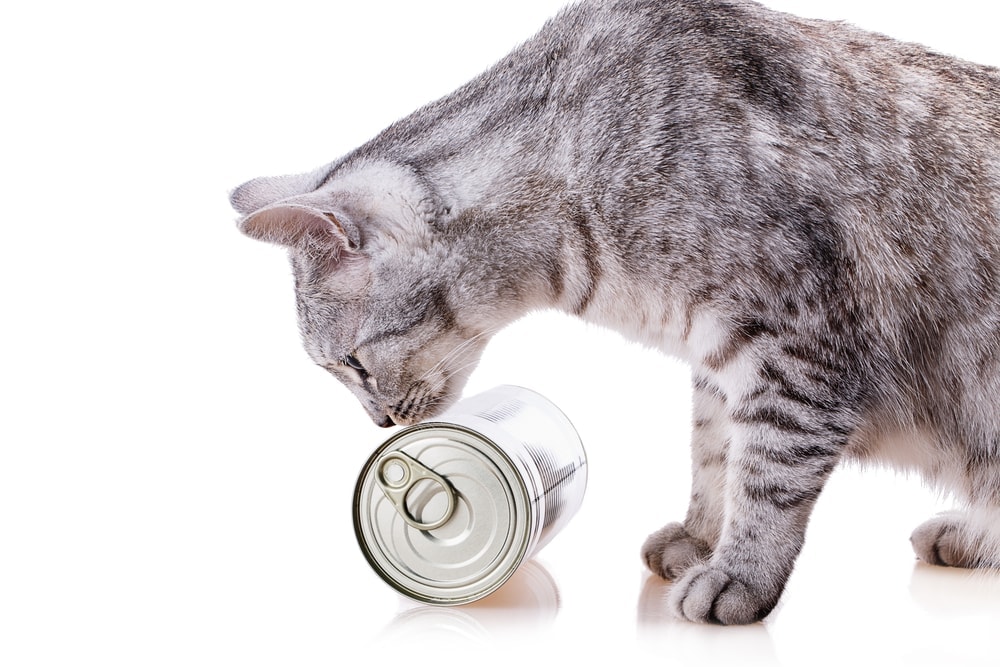 2. Friskies Pate
The Classic Pate Turkey & Giblets Dinner Canned Cat Food from Friskies is another option you have. This cat food is also packed with protein and has a low-fat formula.
One of the major drawbacks of this particular product is that it doesn't over much contrast between the various flavors. This means that your cat could find this food to be a little boring, which might be a problem if they are very picky.
3. Friskies Extra Gravy Pate
The Extra Gravy Pate from Friskies is definitely worth considering due to its high protein and low-fat formula. It also has a decent number of vitamins and minerals that cats need to stay healthy overall.
This cat food does, however, have a lot of carbs as well as potentially carcinogenic ingredients. The by-product ingredients in this food are also not great for cats, but they aren't dangerous at all.
4. Friskies Surfin' and Turfin' Favorites Dry Cat Food
There is also the Surfin' and Turfin' Favorites Dry Cat Food, which has a good amount of protein, vitamins, and minerals. One of the big drawbacks of this food is that it contains cheese, which isn't particularly good for cats. It is actually dried cheese powder, so it is actually artificial cheese.
You will also find that this food has lots of carbohydrates, which not all cats need. This is a decent food to get if you have an outdoor cat that naturally burns a lot of calories running around.

Ingredients
There are several key ingredients that most Friskies products include that you should know about, including:
Water: The wet cat food that this brand offers has a good amount of water, which can help your kitty to stay hydrated.
Chicken: A significant amount of the protein in this cat food comes from a chicken. This is also good, as cats need a lot of protein to stay healthy.
By-products: A lot of Friskies cat food products include by-products, which is a little concerning. You should ideally try to choose cat food that does not contain any byproducts whatsoever.
Liver: The liver that is found in many Friskies cat foods will also provide your cat with a good amount of protein on a daily basis.
Artificial ingredients: Many Friskies products also have at least some artificial ingredients, such as Red 40, Yellow 6, and BHA. These ingredients have the potential to cause negative health effects in some cats.
Vitamins: There tend to be decent levels of vitamin A and E in most Friskies cat food.
Minerals: You will also find numerous minerals that are good for your cat in this food, including zinc, phosphorus, calcium, and others.
This brand has a reputation for its high-carb formulas, which can lead to excess weight gain. The last thing you want is for your cat to become obese, as this can have a very negative impact on their overall health.
Prices
The cost of most Purina Friskies cat food is pretty reasonable, which is partially why it has become such an incredibly popular brand.
Customer Reviews
There are quite a few positive customer reviews from actual people who have bought Friskies cat food for their pets. You will, however, also find a significant number of negative reviews with a variety of complaints. A lot of the negative reviews that are associated with this brand mention the artificial ingredients that are used in these products.
Conclusion
Friskies cat food is made entirely in the U.S. under strict quality control regulations, so it is generally safe for cats.
A lot of the cat foods that Friskies offers contain a good amount of protein, vitamins, and minerals.
One of the most concerning things about this brand is all the artificial flavoring and coloring ingredients they use in their products.
Most of the protein in these cat foods come from chicken and/or chicken by-product meal.
This is a very affordable brand for those who need to keep their kitty fed while adhering to a tight budget.
The reviews for this brand are mixed, with a significant number of both positive and negative comments from customers.
Friskies offers both wet and dry food for adult cats.
You can find detailed nutritional information for each product from this brand on Purina's official website.