Cats can be very finicky creatures. They know what they like and how they like it. If they want to be in your company, they will be.
But if they prefer to stay clear of you, you can bet they will. A cat gets loved on when they want it, on their terms. So naturally, with cat food, it goes without saying that a feline will only eat what suits them.
It is very important to pick the best cat food for your furry member of the family. Cat foods that are highly nutritious will help your cat live the best life he or she can. But it is not always easy in knowing what to select, especially if you are a new cat owner.
Here we have taken all the guesswork out of finding the best cat food. We spent hours combing over various brands, selecting the top ten that were the best.
We have also provided a buyer's guide on how to choose the best cat food. Here you will learn what factors to look for in the cat food you are buying, as well as other important information on cat food.
You will also find a Frequently Asked Question about cat food section in the bottom of the page.
Keep reading to find out what the best cat food is for your feline before your furbaby decides it is time for them to eat again.
---
The Best Cat Foods by Type
(Shortcut to product reviews)
The Best Cat Foods in 2021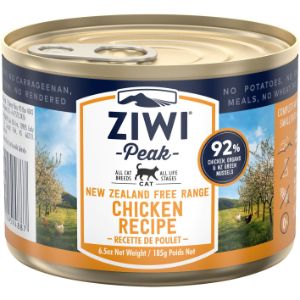 This canned cat food is nutrient-dense made from fresh meat, bone, and organs. New Zealand green-lipped mussels are added as a natural source of chondroitin and glucosamine to help support the joint health and mobility of your favorite feline. This pate offers your kitty a delicious taste they will learn to love.
We absolutely appreciate the first few ingredients: Chicken, Chicken Broth, Chicken Liver, Chicken Heart, Chickpeas, New Zealand Green Mussel, and Chicken Bone. And we know that your finicky feline will as well!
This wet food comes in two different sizes, a 3-ounce can and a 6.5 ounce can. Adult cats should follow these feeding instructions:
3-oz: For every 6.6 lb. of cat body weight, feed approx. 2 cans per day.
6.5-oz: For every 6.6 lb. of cat body weight, feed approx. 1 can per day.
Kittens and pregnant or nursing females should be fed approximately double the amount above in 2-3 feedings per day.
Key Features:
Made up of 92% fresh meat, organs, bones, and mussels, making it complete and balanced.
Does not contain any sugars, glycerin, preservatives, rendered meals, TSPP, BPA, guar gum agar-agar, and carrageenan.
Free from grains, corn, rice, potatoes, wheat, and soy.
Full of moisture and flavor.
Produced from single-sourced, free-range, grass-fed chicken from sustainable farms in New Zealand and 100% free of antibiotics, growth promotants, and added hormones.
Pros:
1325 kcal/kg; 113 kcal/3-oz can, 245 kcal/6.5-oz can
Made from high-quality ingredients
Contains taurine
Supplemented with many vitamins (Choline Chloride, Vitamin E Supplement, Thiamine Mononitrate, Niacin, Pyridoxine Hydrochloride, Riboflavin, Vitamin D3 Supplement, Folic Acid)
Cons:
Super finicky cats may turn up their noses at this
---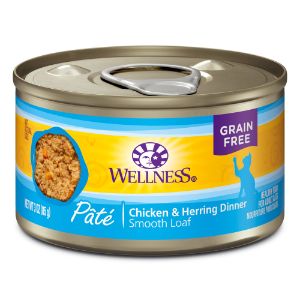 Provide all the vitamins, minerals, and nutrients that your favorite buddy needs with Wellness Wet Cat Food. Your cat will be able to maintain a sleek and shiny coat with this cat food. This grain-free cat good is goodness that a feline will lap up excitedly. The savory and delicious sauce will be one of your cat's favorites.
The key ingredients in this cat food are Chicken, Chicken Liver, Whitefish, Chicken Broth, Herring, Carrots, Natural Flavor, Guar Gum, Cranberries, and Ground Flaxseed. It is supplemented with various vitamins such as Zinc Proteinate, Thiamine Mononitrate, Beta-Carotene, Vitamin E Supplement, Copper Proteinate, Manganese Proteinate, Sodium Selenite, Niacin, and d-Calcium Pantothenate.
The following feeding instructions should be adhered to:
3 oz Can: 2 cans per day for every 6 to 8 pounds of body weight. To feed with dry food, reduce dry by 1/4 cup for every 1 can wet.
5.5 oz Can: 1 can per day for every 6 to 8 pounds of body weight. To feed with dry food, reduce dry by 1/4 cup for every 1/2 can wet.
12.5 oz Can: 1/2 can per day for every 6 to 8 pounds of body weight. To feed with dry kibble, reduce dry by 1/4 cup for every 1/4 can wet.
Key Features:
Contains 87 kcal/3 oz can, 160 kcal/5.5 oz can, 364 kcal/12.5 oz can
Comes in 3 sizes- 3 oz cans, 5.5 oz cans, and 12.5 oz cans
A grain-free recipe that contains chicken and herring to support lean muscles.
Aids in the 5 signs of feline wellness—a lustrous skin and coat, healthy stomachs, bright eyes, and strong teeth and gums, and lots of energy and immune health.
Full of balanced nutrients, essentials like taurine, antioxidants like cranberries, vitamins, and omega fatty acids.
Supports urinary health by keeping your best friend hydrated.
Free of corn, wheat, soy, peas, artificial flavors, colors, and preservatives
Pros:
Covered with a delectable sauce
Contains Chicory root extract, which acts as a prebiotic
Made from a pioneer in the holistic pet business
The fish is sourced from the Atlantic and Pacific oceans
Cons:
Unused portions need to be refrigerated
---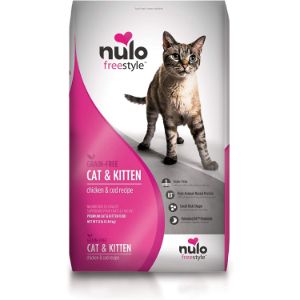 Your feline companion will appreciate this dry cat food as it will provide enough calories for them while still providing muscle mass. Formulated with chicken and cod, your kitty will love how it is formulated with 83% animal-based proteins. It can be used for kittens that are growing, as well as adult cats.
The first four ingredients are Deboned Chicken, Chicken Meal, Turkey Meal, and Deboned Cod. Other ingredients include taurine, dried sweet potatoes, dried cranberries, lentils, chicken fat, and whole peas. Many supplements are added, such as Iron Proteinate, Niacin Supplement, Copper Proteinate, Thiamine Mononitrate, Calcium Pantothenate, Vitamin A Supplement, Manganese Proteinate, Pyridoxine Hydrochloride, and Sodium Selenite.
Cats that are up to 4 pounds that are within the ages 7 to 13 weeks should get ½ to 1 cup daily. If the kitten is 4 to 6 months old, it can be fed 1/2 cup to ¾ cup. Kittens that weigh 4 to 6 pounds and are 4 to 6 months old should receive ½ to1 cup per day.
A 7 to 9 pound cat should be fed ¾ to 1 cup as long as they are 7 to 12 months old. A 10 to 12 pound cat will require ¾ cup per day, while a 13 to 15 pound cat should be fed 1 cup per day. Any cat that is over this weight should be fed 1 cup plus ¼ cup for every 4 pounds.
Key Features:
Formulated to be grain-free, this cat food is for both cats and kittens. Appealing taste and texture that cats love.
Made with plenty of protein.
Omega 3 and Omega 6 fatty acids provide your cat with a healthy and shiny coat.
Made with a pure probiotic strain that will support gastrointestinal health.
Perfect for cats that need to have a low carb diet.
Vision and heart health are supported by taurine.
Pros:
For both cats and kittens
low -glycemic
Gluten and grain-free
Made in the USA in smaller batches
No fillers used
Cons:
Pieces of kibble are very small
---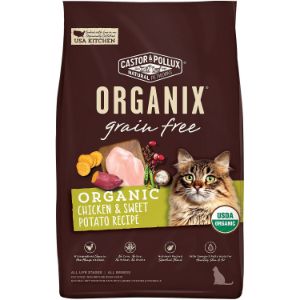 From Bengals to Siamese, all breeds of cats will love Best Organic Cat Food. This cat food lists Organic Chicken, Organic Chicken Meal, Organic Pea Protein, Organic Sweet Potatoes, Organic Peas, Organic Chickpeas, Organic Tapioca, Organic Sunflower Seed Meal, Organic Coconut Oil, and Organic Chicken Fat as the first ingredients.
We appreciate this cat food because it is healthy for your fur babies. A complete and balanced diet will help your feline stay healthy and have lots of energy. This Castor & Pollux Organix mixture does just that.
Daily, you should feed your cat that weighs 4 to 7 pounds ¼ to ½ cup if they are only eating dry food. Cats that are 7 to 10 pounds should have ½ to ⅔ cup daily and those that weigh 10 to 15 pounds should be fed ⅔ to ¾ cup daily.
Key Features:
3,739 kcal/kg, 412 kcal/cup
Manufactured with organic free-range chicken.
No pesticides or chemicals are used on any of the ingredients.
No added hormones, preservatives, or antibiotics.
Healthy skin and a glossy coat are supported by omega fatty acids.
Pros:
Organic
Grain-free
Gluten-free
High-quality ingredients
Soy and wheat-free
Company is ran by a team of experts in the animal field
Cons:
Vitamin B is sourced from China
---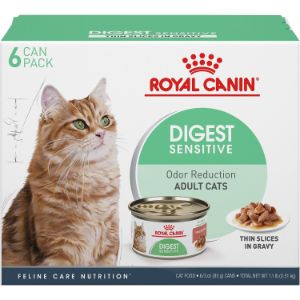 Little panthers all over the world will love Royal Canin Digest Sensitive. Made with thin slices, this canned cat food is something to feed your king and queen cat! Proteins, fats, and carbs are balanced well in this food. The gravy is formulated with an odor reducer, which is actually preferred by cats.
This pea-free food has the following ingredients listed first: Water Sufficient For Processing, Chicken By-Products, Pork By-Products, Pork Liver, Salmon, and Chicken Liver. It is also formulated with trace minerals, such as Zinc Oxide, Zinc Proteinate, Ferrous Sulfate, Copper Sulfate, Manganous Oxide, Calcium Iodate, and Sodium Selenite, and the vitamins E, B1, B6, B12, and others.
We appreciate that rosemary extract is used in the recipe to preserve the cat food. This means a lot to pet parents that like to keep preservatives natural.
We also feel it is very important that the company tries to source fresh ingredients that are the closest to the factory. They are willing to use international companies as long as they follow the same high standards that Royal Canin does.
We really like how their feeding instructions are laid out. They provide the weight of your cat, along with 3 different activity levels. If your cat weighs 6.6 pounds and low activity, you should feed them 2 cans a day. A cat with that weight that has medium activity should have 2 ⅜ can, while a high activity cat should eat 3 cans per day. An 11 pound cat should eat 2 ¾ can if they have low activity, 3.5 cans if they are medium activity, and 4 ⅛ cans if they are high activity.
Key Features:
777 kcal/kg, 66 kcal/can
Formula is designed around the instinctive preferences of a feline
Highly palatable with slices of meat
Perfect balance of fats, proteins, and carbs
Sensitive formula
Pros:
Pea-free
Moderate calorie level
Balanced and complete
Perfect for finicky eaters
Works great for senior cats
Great crunchy texture
Cons:
Very rich
Some feel pieces of meat are too large
---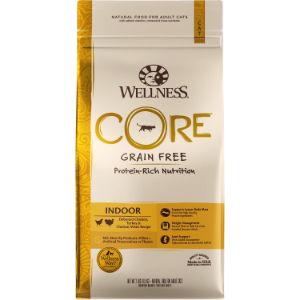 Your tabby will be in 7th Heaven with this antioxidant infused grain-free cat food. Your adult cat will have a shiny coat and healthy skin,along with joint health.
We appreciate that deboned chicken is the first ingredient in this food. The next ingredients include Chicken Meal, Turkey Meal, Peas, Potatoes, Potato Protein, Tomato Pomace, Pea Fiber, Chicken Fat (Preserved with Mixed Tocopherols), Natural Chicken Flavor, and Ground Flaxseed.
We are excited that this dry food contains rosemary extract, green tea extract, and spearmint extract.
Cats that are 4 to 7 pounds should have ¼ to ⅓ of a cup per day. Those that weigh7 to 10 pounds can have ⅓ to ½ cup per day. Felines that are between 10 to 15 pounds can aim for ½ to ⅔ cup. Any cat that is over 15 pounds should add ¼ cup per every 2 pounds after this weight.
Key Features:
Nutrient dense recipe that does not contain any fillers.
Omega 3 Fatty acids help to promote joint health.
Made in the USA with fine ingredients.
Wheat, soy, gluten, egg, and corn-free.
Cranberries and other antioxidants help with immune support.
Body fat is utilized with the help of L-Carnitine.
3,561 kcal/kg, 445 kcal/cup
Pros:
Full of probiotics, antioxidants, and vitamins
Unique recipe helps with inner health and wellbeing of feline
Balanced ingredients that are not in excess
Made from a pioneer in holistic nutrition
Ingredients are primarily sourced from the USA
Cons:
Contains more meat meal than other important ingredients
Felines do not really need potatoes in their diets
---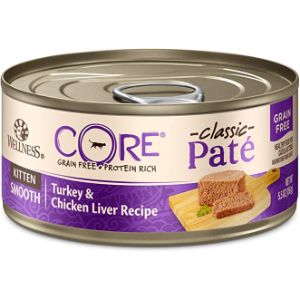 Your mouser will appreciate Wellness CORE Natural Grain-Free wet food. This pate will excite your kitty's palate, providing them with many nutrients they need to grow big and strong.
The first few ingredients listed in this food are Turkey, Chicken Liver, Turkey Broth, Chicken, Chicken Meal, Herring, Natural Flavor, Cranberries, and Menhaden Fish Oil.
We appreciate how higher levels of DHA support a cat's eye health. And we know that you cat will adore how all ingredients are premium, meaning they will have the best taste each and every time they eat!
If your kitten is up to 20 weeks old, you can feed them as much as they will eat in 3 or 4 feedings per day. Those that are 21 to 30 weeks, you can feed them ⅔ of a 3 ounce can. Those that are 31 to 52 weeks old may eat ½ of a 3 ounce can.
Key Features:
108 kcal/3-oz can, 199 kcal/5.5-oz can
All ingredients are carefully picked for optimal health of your feline.
Kitten is provided with a balanced and complete diet that is grain-free.
No carrageenan, artificial colors, flavors or byproducts are used in this recipe.
Pros:
Complete and balanced diet that kitties love
Made from high-quality animal protein
No fillers used
Fresh and whole ingredients are used
Grain-Free, Gluten Free, No Corn No Wheat No Soy, Pea-Free
Approved by the AAFCO
Cons:
If your feline does not eat a whole can, you need to refrigerate the leftovers
---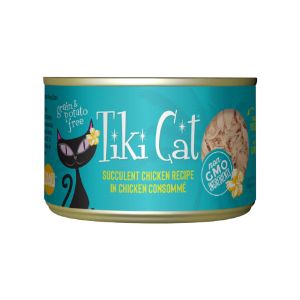 Lynxes all over will rejoice when they are fed Tiki Cat Puka Puka Luau. The first few ingredients listed are Chicken, Chicken Broth, Sunflower Seed Oil, Tricalcium Phosphate, and Taurine. The chicken is hormone and antibiotic free. We also welcome that since there is real broth in it, the urinary tract is better supported due to the extra moisture.
Generally, you can feed your cat by following these guidelines:
2.8 oz Can: 1 – 2 cans per 7 pounds bodyweight
6 oz Can: 1 can per 7 pounds of bodyweight
Key Features:
Made from real ingredients that you can recognize.
Food is high in moisture to give your feline the moisture it needs.
High protein to support muscle health.
First ingredient is shredded chicken.
Recipe formulated for picky eaters.
863 kcal/kg, 69 kcal/2.8 oz can, 147 kcal/6 oz can
Pros:
Made with shredded chicken
High protein
Nourishing to cats coat
Made with essential vitamins and minerals
Perfect for cats of all ages
No Corn No Wheat No Soy, High-Protein, Gluten Free, Low Glycemic, Grain-Free, Pea-Free
Cons:
This brand only comes in shredded varieties
---
There's no meowing about it! Felines will feel like they are getting the royal treatment when they are fed Royal Canin. And they rightfully deserve this if they are a senior cat.
The first few ingredients listed on this canned food include Water Sufficient For Processing, Pork By-Products, Pork Liver, Chicken, and Chicken Liver.
Depending upon the weight and feeding style, it is recommended to feed your 6.6 pound cat 1.75 cans if they are on a lean feeding schedule. If this cat is on a normal feeding schedule, you can feed him 2 cans per day, while a cat who is overweight would want to be fed 2.5 cans.
Key Features:
834 kcal/kg, 71 kcal/can
Made for cats that are over the age of 12.
Contains a Macro-nutrient profile that aging cats require and favor
Thin, tender slices of meat are covered with a gravy.
Kidney health is supported by reduced phosphorus levels.
Pros:
Naturally preserved
Lower sodium
Contains gravy, which many cats love
Very moist
Cons:
Made with pork- Some cat owners feel pork is not safe for their cats
Chunks of meat may be harder for older cats to eat
---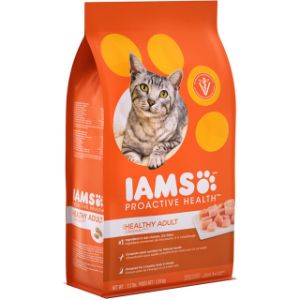 Iams Proactive Health is a feline masterpiece your furry family members will adore. Chicken is the number one ingredient in this budget food. Other ingredients include Chicken By-Product Meal, Ground Whole Grain Corn, Corn Grits, Corn Gluten Meal, Dried Beet Pulp, and Chicken Fat. Other ingredients include Vitamin B12 Supplement, Riboflavin Supplement (source of Vitamin B2), Inositol, Vitamin D3 Supplement, Folic Acid), Taurine, Minerals (Zinc Oxide, Manganese Sulfate, Copper Sulfate, Potassium Iodide), L-Carnitine, and Rosemary Extract.
We appreciate that this food helps to support a healthy body weight. We also like how it is a budget friendly feline food. And as Iams has been in the cat food business for some time, we like how they take the time to research the requirements a cat needs.
Cats that weigh 4 pounds should eat ¼ to ⅓ cup daily. Those that weigh 8 pounds can eat ½-⅔ can daily while a 12 pound cat can eat ¾ to 1 can daily. Sixteen pound cats may have 1-1 ⅓ cans per day while a 22 pound feline can have 1 ⅓ to 1 ¾ can daily.
Key Features:
3,693 kcal/kg, 373 kcal/cup
A mix of protein and carbs keep your cat energized.
Omega 3 and 6 fatty acids support a shiny and sleek coat and healthy skin.
Texture allows felines to remove tartar and plaque from teeth.
Backed by a 100% satisfaction guarantee.
Taurine promotes healthy eyes and heart.
Perfect for cats that are ages 1 and above.
Fiber will help to target a healthy digestive tract.
Pros:
Made with prebiotics
Promotes healthy skin and coat
Gentle fiber
Helps promote healthy teeth
Great crunchy texture
Fortified with minerals
Made in the USA
Cons:
High carb content
Made with animal byproduct
Has caramel coloring in it
Contains corn grits and corn gluten meal
---
Buyers Guide: How to Choose the Right Cat Food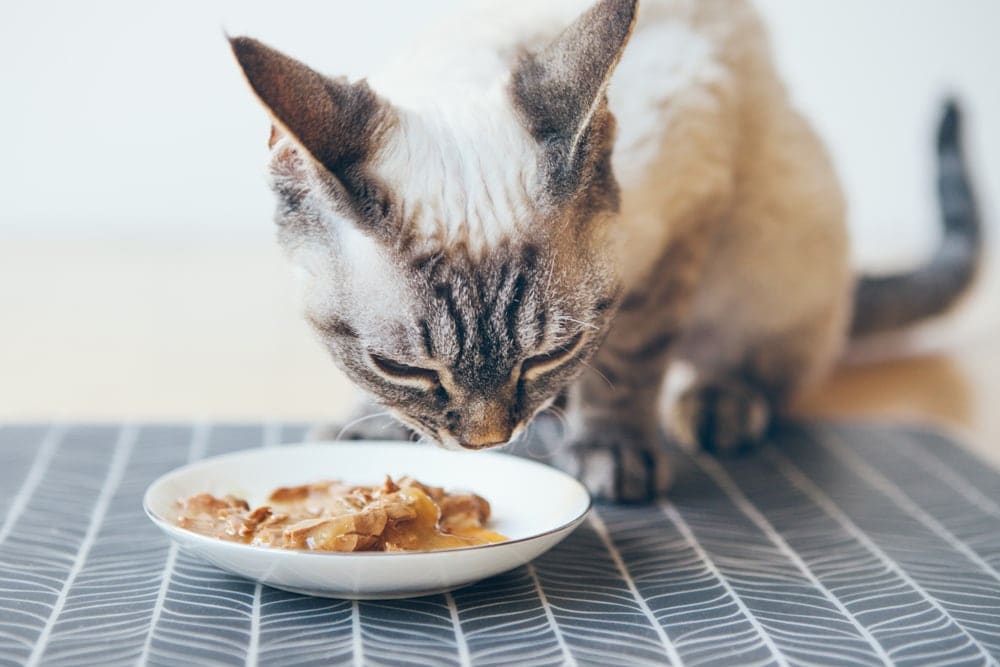 Factors to Consider
1. Health and Age of Your Cat
It is crucial to pick a cat food that correlates with our cat's age and their health. You would not want to feed a 5-month-old kitty food made for a senior cat as they each have different nutritional needs. And if your feline has a health issue, such as recurrent UTIs or an issue with their heart, it is in your best interest to find a food that will help this problem, not make it worse.
2. Ingredients
When selecting the best cat food, there are certain ingredients that you should look for. These include:
Real animal proteins- Look for ingredients that are listed such as beef, turkey, chicken, fish, duck, lamb, eggs, salmon, mussels, and sardines. You can also see if there are organs in the cat food, such as the liver, as this is a good thing to add to cat food. Cats agree that chicken and beef liver help make their food more palatable.
Fruits and vegetables- Now you would not think that a cat's food should include fruits and veggies, but this is essential for their health. Look for sweet potatoes, zucchini, carrots, berries, and apples for ingredients that will pack a nutritional punch.
Marine plants and herbs- These two things are great ingredients that add a lot to a feline's food. Kelp, dill, sage, rosemary, basil, and thyme are all great plants and herbs to look for.
Fats- Fats should be added to your cat's food, but only the good ones. Look for ones that are present in animal proteins naturally, but yet added to foods for extra supplementation. These include ALA, DHA, and EPA, which are best known as Omega-3 fatty acids.
3. Ingredients to Avoid
There are certain ingredients that you will want to avoid. Cats need proper nutrition, and truly are what they eat. Many ingredients found in poor quality foods make a feline's health worse, such as harming the kidneys or giving heart problems. It is imperative that you feed them high-quality ingredients. Never allow your cats to have the following ingredients:
Soy
Wheat
Corn
Rendered fat (this can promote bacteria and mold growth)
Carrageenan- studies have shown that this binder works great for canned cat food, but unfortunately may make cancer worse. It can also create inflammation in the body.
Artificial colors and flavors, including Blue 2, Red 40, Yellow 5, or caramel coloring
Vitamin 3K
Sodium Nitrate
Sodium Nitrite
Sugar
Artificial or synthetic preservatives, including BHA, BHT, and ethoxyquin
Any vague or nondescript "meat" (if the source is not identified, there's no way to know where it came from or what's in it)
Any vague or nondescript "meat" (if the source is not identified, there's no way to know where it came from or what's in it)
Any fillers that do not have any nutritional value. This often includes low-quality grains.
One rule of thumb that many humans will follow when looking at ingredients in their food is if they can not pronounce it, they do not toss it into the cart. This is a great rule to follow with cat food as well. Cat foods with ingredients that are hard to say or have odd names are probably not good for your cat anyway.
You should also never purchase cat food that has a byproduct listed as the first ingredient.
Look to see where your ingredients were harvested from. Anything that is from China and other Asian countries should be avoided. These ingredients are often cheap and could be toxic to your feline.
You should also note that cat foods that have fewer ingredients are most likely better than those that have a long list of ingredients.
4. Ingredient Sourcing
You will also want to look at where the ingredients came from. This is important to do as many recalls are from suppliers that have ingredients that were tainted.
It is highly recommended that you purchase cat food that is manufactured and inspected in the United States.
5. Flavor, Smell, and Taste
Felines are super picky creatures. You really need to take flavor, smell, and taste into consideration before purchasing cat food. While you will not necessarily know which cat food your kitty will love, trial and error is the best way to find out.
6. Best By Date and Expirations
A best by date is added to cat food to let consumers know that the product will be fresh and edible until that date has passed. It will still be edible after this date, but the benefits will likely not be as potent.
One thing that really gets my goat is when people assume that just because a pet is an animal, they can eat food that is expired. Never feed your cat canned or dry food that is expired as there is the potential to make them sick. Companies label foods with expiration dates so they do not have to be held liable if something should occur to make a pet sick after consuming the pet food after it expires.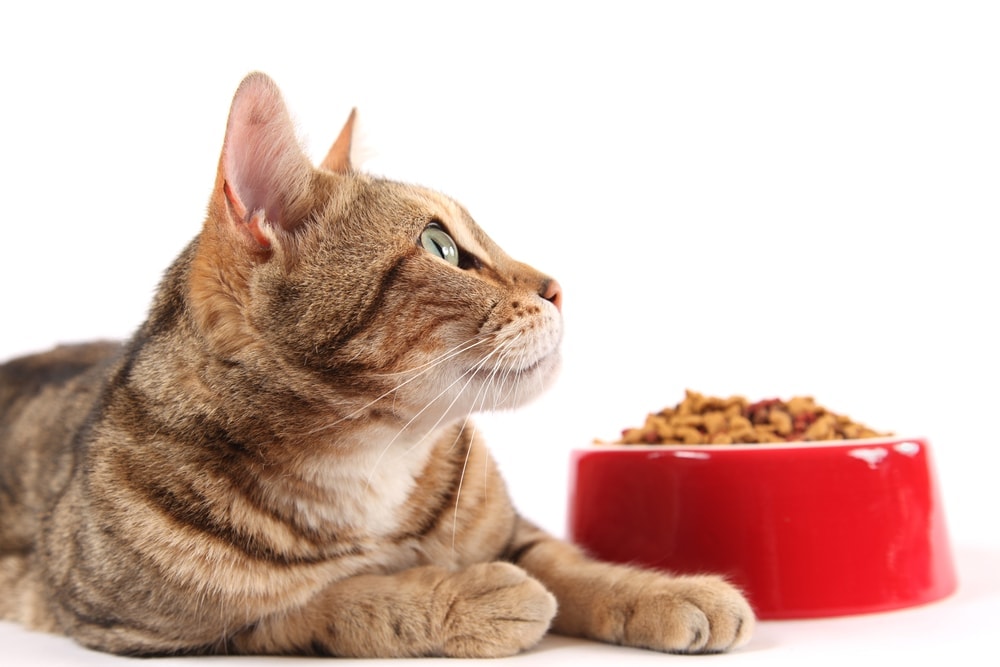 Ingredients Often Found in Cat Food
1. Meat
Deboned from beef, turkey, chicken, lamb, and other similar animals, meat comes from those animals that have been chosen to be an animal feeder. Often included in this will be muscles, nerves, blood vessels, the heart, the esophagus, and the tongue.
2. Meat Byproduct
The product is taken from the non-flesh parts of the animals listed in the meat section. Any chicken byproduct is feather free. These parts will include lungs, bone, brain, liver, intestine, kidneys, and the emptied stomach.
3. Fish Meal
The product of whole fish or fish pieces that are clean and undecomposed. Fish oil may or may not still be present in the fish.
4. Taurine
Taurine is an organic compound that cats find beneficial. Adequate amounts in a cat's life will prevent eyesight degeneration, as well as heart disease. It can also aid in digestion and keep an immune system healthy. Many cat foods already add this ingredient.
When a cat is pregnant, she needs enough taurine to not only keep her healthy but to ensure that the kittens are growing properly. If the mama cat does not have enough taurine, the litter size could be small or there is a possibility of low birth weights. Fetal abnormalities are also possible. Kitties that do not get enough taurine will not grow as fast.
5. Byproducts
A byproduct is a secondary product made from a process. Animal byproducts are made from all parts of an animal, such as fat, flesh, blood, or milk.
6. Oils and Fats
Many cat food manufacturing companies will add animal fats or oils or vegetable oils to add flavor to their food. This is also a way to supply a form of energy to a feline.
7. Additives
Additives are often mixed in with ingredients for various reasons.
Some additives which supply amino acids include DL-Methionine, L-Lysine, L-Threonine, DL-Tryptophan, DL-Arginine, and L-Tyrosine.
Those ingredients that act as chemical preservatives include Ascorbic acid, Benzoic acid, Butylated hydroxy anisole (BHA), Butylated hydroxytoluene (BHT), Calcium ascorbate, Citric acid, Ethoxyquin, Potassium sorbate, Sodium bisulfite, and Mixed Tocopherols.
Dietary fiber is often added to cat food. These include dried beet pulp, dried chicory root, fructooligosaccharide, powdered cellulose, and inulin.
Ingredients that hold kitty kibble together often used include corn, barley, peas, and potatoes. The plant-derived ingredients are also a great source of energy.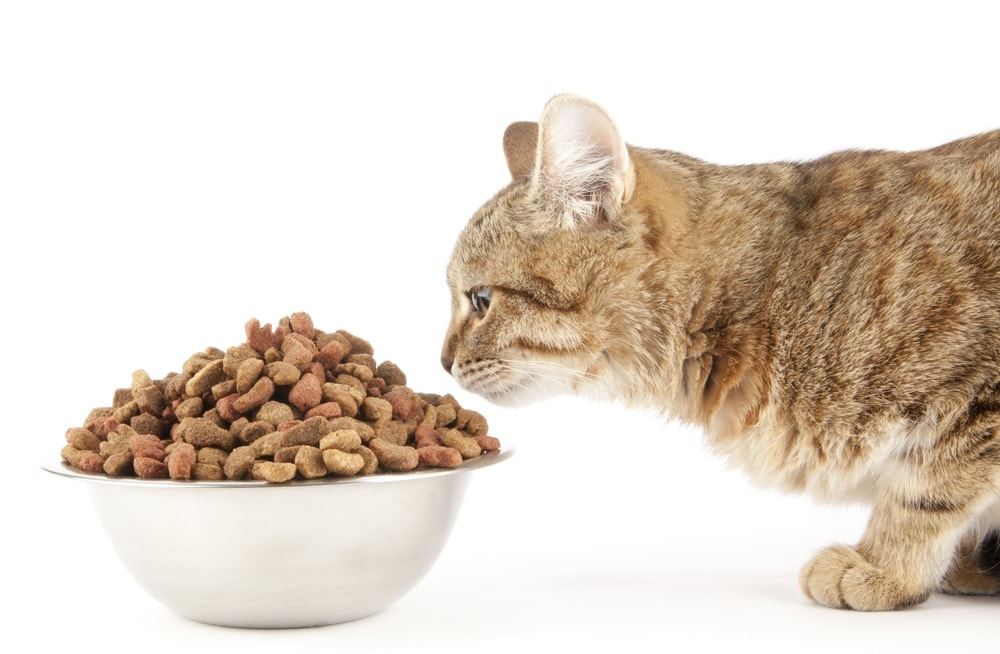 How to Read a Cat Food Label
It is essential to know how to read a cat food label in order to find the best feline food for your kitty. Cat food bags are required by the Food and Drug Administration (FDA) to list 8 different pieces of information that are key to understanding if your cat food is good enough to give your beloved pet. These things include:
Product name- This will tell you specifically what you are getting in your bag or can of cat food. There are guidelines that companies must follow when labeling the cat food bag. For example, if they place "turkey" or "chicken" on it, it means the product contains at least 70% of this. However, if it is labeled as "beef platter" or "duck dinner" or other fancy words, such as entree or formula, it only needs to contain 10% of the meat. If it says "with fish", it means there is only 3% of the total ingredients used is turkey, while "beef flavoring" would simply imply it has up to 3% of beef in it.
Net weight of the product
Name and address of the company that manufactured it
Guaranteed analysis- This segment is significant as it will show the minimum number of crude protein and crude fat added to the cat food, while also showing the maximum amounts of crude fiber and water (moisture). Specific values are not presented.
List of ingredients- Unfortunately, the label of a cat food bag doesn't need to tell you where the ingredients were obtained from. Or even what the quality of the ingredients is. Some companies are even sly about this, as the order of the ingredients is listed with the most used ingredients first. Therefore, if you buy a bag that lists the beef byproduct as the first ingredient, you'll know that beef byproduct is what was used most. However, when the manufacturer is cunning like this, they can divide up ingredients used, such as corn. These will all be listed separately, such as cracked corn, kibbled corn, and flaked corn. Meat can also be something to watch for, as fresh meats have high water content. So once the meat has been processed, it will seem like there is less in the cat food than there really is.
Intended animal species, such as a feline or a canine
Statement of nutritional adequacy- This statement will tell you precisely how the food was tested. It will also declare which life stage the food is recommended for. The AAFCO has 4 life stages: growth, maintenance, gestation, and lactation. If the term "all life stages" is listed on a bag, it means that it has been tested for growth.
Feeding guidelines- This will tell you exactly how much to feed your canine based on the weight of your pup. These guidelines will inform you if you are over or underfeeding your feline.
Helpful Information
The following is some helpful information that you can use to help you select the right cat food for your feline, as well as some general information about cats.
Kittens are from birth to age one. Cats from age one to seven are adults, while those from seven to eleven are known as mature cats. Anything older than eleven is known as a senior cat.
Indoor cats do not need as many carbohydrates as outdoor cats.
Rice and soy, as well as other grains and carbohydrates, can make a feline's blood sugar level spike. This could also cause him to gain weight.
Cat food should always be used before the expiration date.
Dry cat food can be left out for your kitty to free feed.
Do not buy kitten food for a cat or cat food for a kitten.
Not all preservatives are bad. In fact, natural ones, such as vitamin E or vitamin C, are completely safe to use.
Common cat food allergens include dairy, artificial colors, seafood, beef, soy, eggs, wheat, corn and corn products, and preservatives such as BHA,
Canned cat food should only be left out a maximum of 4 hours before throwing it away. An open can of cat food should be stored in the refrigerator for up to one week.
All food bowls should be washed a minimum of once weekly with hot, soapy water.
Natural and organic cat food is not the same thing. Guidelines are being developed as to what cat foods can be labeled with the word "organic". Organic refers to how the product was grown, while natural means it does not have any artificial colors or flavors.
The Food and Drug Administration states cat foods displaying words such as "premium" or "ultra-premium" aren't obligated to be composed of any more beneficial or wholesome ingredients than a common complete and balanced feline food are.
FAQ About Choosing The Right Cat Food
How can you tell if your cat is overweight?
If you believe your cat is overweight, run your hand along his flank.   You will want to be able to feel the ribs, but not see them. 
You can also look at him from the side.  The waist should look narrow.  And if you look at the cat from the top, there should also be a narrowing of the waist.  
If you do all three of these, but you do not feel the ribs or see a narrowing of the waist, there is a good chance that your cat is overweight.  You can also check with your vet to see if he could stand to lose a few pounds.
Can cats have a vegan diet?
Cats should not be fed a vegan diet.  Felines require protein and amino acids to survive.  There are 23 amino acids. Cats have 12 of these amino acids in their body, but 11 of them need to be obtained through diet.  Those that are deficient in these amino acids could begin to have issues with their heart.
How can you tell if your cat has allergies to food?
There are several ways that you can tell if your feline is allergic to the food she is eating.  Many cats will have loose stools or diarrhea.  Other cats will begin to vomit.  Many times the cat will start itching their face or start to over groom themselves.
Can cats eat dog food?
Your cat should not be eating dog food.  Cats need preformed vitamins and proteins that are found in cat food.  Dog food does not have these high levels.
Is dry cat food better than wet cat food?
There is not a definite answer on this one.  Some will argue and say that wet cat food is better than dry, while others think that the opposite is true.  Some feel that they are equally great and feed their cats both.  Really, it is a personal preference of yours and your cats. 
If you are feeding your cat only dry food, Purina does recommend that one cup of water is drunk for every 10 pounds of weight in a 24 hour period.  So, therefore, a 15-pound cat would need 1.5 cups of water every 24 hours.
What food should kittens eat?
Kittens, as well as those cats that are pregnant or lactating, should eat foods that are made for the growth life stage.  Any cat over the age of one, which is then considered an adult, should eat either adult maintenance or food formulated for all life stages.
What does it mean if cat food is "human grade"?
In order for cat food to be labeled as human-grade, the pet food needs to be made with human ingredients.  It also needs to be manufactured in a human food processing plant that is inspected by the USDA.
Do different breeds of cats require different diets?
No, all breeds of cats need the same diet.  It does not matter if you own a Ragdoll, a Russian Blue, and a Siamese.  They will all need the same nutrients to keep them healthy.  However, if you have a long-haired cat, it may be beneficial to purchase food that helps with hairballs.
Conclusion
We truly hope you have enjoyed our reviews of the best cat food. After hours of reviewing, we really feel we have found the best picks. Not only have we taken the guesswork out for you, but we have provided you with a comprehensive buyer's guide to help you make an educated decision. Your cat will be happy to have a feline cuisine that they love wholeheartedly.
Was this article helpful?