Your canine is most likely your best friend. So naturally, you want what is best for them. That includes feeding them the best dog food that you can find.
As a responsible pet owner, you know that all dog food is not created equally. Some are full of protein and essential vitamins and minerals, while others are made of fillers. Some of these dog foods can actually do more harm than good towards your pet.
Even though your dog may be on a special diet for a health condition, all dogs require nutritious dog food to make them a healthy member of your family. While it can be confusing to read the labels of pet foods, it is important to do so.
However, we have taken the time to find the 10 best dog foods on the market today. We have reviewed and compared many varieties of dog food to find the best one to feed your dog. In our reviews, we will provide key features, pros, and cons. We also provide a comprehensive buyer's guide so you know exactly what to look for in your furry friend's food.
There we will answer frequently asked questions and provide information on what to look for, as well as avoid, in any dog food on the market today.
The Best Dog Foods by Type
(Shortcut to product reviews)
---
The Best Dog Foods in 2021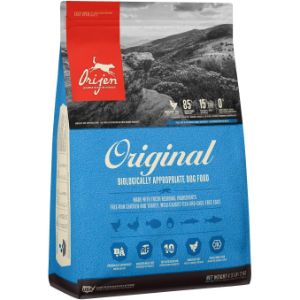 Orijen Original dry dog food is grain-free, nutrient-dense, and protein-rich. Made with free-range chicken and turkey, cage-free eggs, and wild-caught fish. In fact, this dog food is rated for human consumption as it is so fresh!
The primary flavor of this Orijen product is chicken. Many pups will love the taste due to the first several ingredients, which includes deboned chicken, deboned turkey, Atlantic flounder, whole eggs, whole Atlantic mackerel, chicken liver, turkey liver, chicken heart, turkey heart, whole Atlantic herring, dehydrated chicken, dehydrated turkey, dehydrated mackerel, and dehydrated chicken liver.
Orijen is a brand that you can trust when feeding your pet. This dog food will not contain more than 20% of carbohydrates and contains only low-glycemic carbs such as fresh fruits and leafy greens.
Key Features:
2/3 of the meats are fresh, which have been refrigerated without preservatives or raw, which have been flash-frozen without preservatives, including the top 10 meat ingredients
Full of 38% largely wholesome protein, and 20% carbohydrates to sustain canines of all life stages according to their evolutionary and biological requirements
33% of the meats are from dehydrated chicken and turkey which have been air-dried at low temperature from fresh meat for a concentrated source of wholesome protein
Nutrient-packed WholePrey proportions of fresh meat, organs, cartilage, and bones with fresh whole fish and fresh whole eggs offer a pure source of essentially every nutriment your pup requires
Mixtures of lightly freeze-dried liver intensify flavoring and palatability easily, making Orijen Original taste delicious, even for picky pups
Pros:
All life stages of dogs
Super fresh
Does not contain any grains, potatoes, or plant proteins
Veterinary tested
Made in the USA
Meats, fruits, and vegetables are locally sourced
No recent recalls are listed
Cons:
A little bit pricey
Could trigger allergies in some dogs
Local pet stores may not carry it
---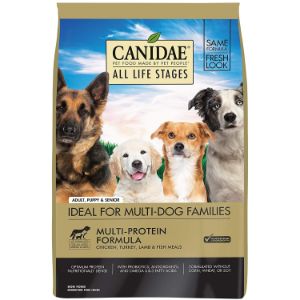 Mealtime can be easy for your canine when you feed them Canidae All Life Stages dog food.
A family-owned company in Southern California, the business has a goal of creating high-quality pet food, making a difference for both pets and pet parents. The company will stand behind their product 100%. This hard dog food is perfect for families with one dog or several!
We appreciate there is an optimum amount of protein in this dog food. The first ingredients that are listed are chicken meal, lamb meal, turkey meal, white rice, and brown rice. The back of the bag provides guidelines for how much of the dog food to feed each member of your canine family.
Our team has also heard that pet parents that feed their dogs Canidae All Life Stages have dogs that have coats that are soft and shiny. We have even heard that Boston Terriers fart less on this food!
We are also pleased to know that in the 20 years that this company has been in business, there has only been one recall on food, which was for possible salmonella contamination.
Key Features:
Vitamins and minerals are added to premium ingredients, proving dogs with a delicious taste
HealthPLUS solutions are included in the ingredients, which is a blend of probiotics, antioxidants and omega-3 and omega-6 fatty acids
A nutritionally dense recipe full of chicken, turkey, lamb, and fish
Pros:
Does not contain any chicken byproduct, wheat, soy, or corn
Natural and holistic with extra added vitamins
Formulated by Vets
Amazing calorie content (468 kcal/cup)
Well balanced
Fills a canine up well
Made in the USA by a family-owned company
Typically priced better than other high-quality brands
Cons:
Does not contain any taurine
Your puppy's stool may be softer than normal on this food
---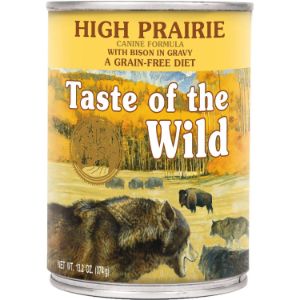 Your canine will adore you for feeding them this wet dog food as the main ingredient is beef. Other ingredients include bison, roasted lamb, roasted venison, along with peas, potatoes, and sweet potatoes. We appreciate that these ingredients will give your pooch some sustained energy. And we can not forget about the tomatoes, blueberries, and raspberries that provide antioxidant support. These three also help with immunity.
Your pooch will appreciate the texture of this dog food. There are chunks of meat in a rich gravy that your dog will mow down on. The first ingredients listed on the bag are beef, lamb broth, beef broth, vegetable broth, lamb liver, bison, dried egg whites, potatoes, peas, dried egg product, potato starch, roasted lamb, roasted venison, and ocean fish. The canned dog food has a wealth of vitamins and minerals infused into the recipe, including niacin supplement, D-Calcium pantothenate, vitamin A supplement, riboflavin supplement, biotin, vitamin B12 supplement, potassium iodide, pyridoxine hydrochloride, vitamin D3 supplement, folic acid, and many more.
This wet food contains 322 kcal/13.2-oz can.
Key Features:
Lean nutrition is provided in this wet canned food through beef, bison, roasted lamb and venison, and ocean fish.
Vitamins and minerals are added to provide extra antioxidants. These come from real veggies and fruits.
The skin and hair coat is supported by omega 3 and omega 6 fatty acids.
Free from grain, corn, wheat, filler, artificial colors, flavors, and preservatives. All ingredients are from sustainable and trusted resources.
Prebiotic fiber and nutrients from the sweet potatoes, blueberries, and raspberries make this a highly-digestible dog food.
The scientifically advanced protocol used by a United States owned and run company.
Pros:
Perfect for sensitive pups
Grain, corn, and wheat-free
No artificial flavors, colors, pr preservatives
Contains taurine and many other essential nutrients and vitamins
Cons:
Traces of GMO may be found in this dog food
Made with vegetable proteins, which are harder for a dog to digest
---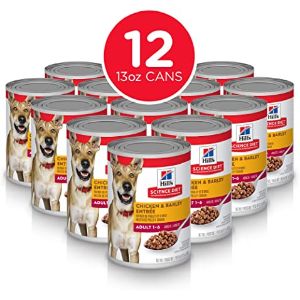 This number one recommended veterinarian canned dog food is made from high-quality protein which helps your grown canine build up and maintain their muscles. Made with natural ingredients, this dog food is made with ingredients that are sourced from all over the world, and manufactured in the United States.
This Science Diet dog food contains the following ingredients: water, chicken, liver, brown rice, carrots, rice starch that has been modified, wheat flour, potato starch, pork plasma, and dried beet pulp. It is full of a host of vitamins, minerals, and supplements, such as copper proteinate, manganous sulfate, potassium iodide, vitamin E supplement, thiamine mononitrate, niacin, D-calcium pantothenate, and vitamin B12 supplement.
We appreciate the warranty that Science Diet offers. If for any reason, you are not happy with your purchase, you can return the unused portion for a full refund or replacement.
Key Features:
Formulated for dogs ages 1-6
Made for most breeds
Has a primary flavor of beef
Made with a delectable gravy smothering real meat, vegetables, rice, and more
Pros:
100% satisfaction guaranteed or your money back
Has a pull tab lid
Flavorful
High-quality ingredients
Decent value for the money
The purchase helps shelter pets
Nutrition supports coat, skin, and stool health
Balanced nutrition
Cons:
Not recommended for pregnant or nursing mamas
Mature dogs should not have this food
Is not grain-free
---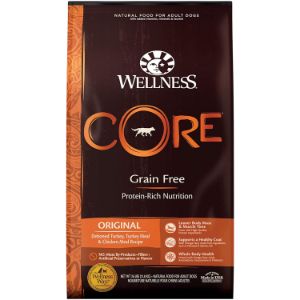 Wellness Core Grain-Free Kibble is full of wholesome nutrition for your pup. Made from real chicken and turkey, this delightful dog food has antioxidants, omega fatty acids, glucosamine, and probiotics densely packed into it. Perfect for adult dogs, Wellness stands by their claim to never use any by-products, soy, artificial flavors, or preservatives.
The first few ingredients that are listed on the bag include deboned turkey, turkey meal, chicken meal, peas, potatoes, dried ground potatoes, chicken fat which has been preserved with mixed tocopherols, tomato pomace, chicken liver, natural chicken flavor, ground flaxseed, and salmon oil.
We were astonished to realize some very surprising ingredients in Wellness Core. These include Rosemary extract, green tea extract, and spearmint extract. Other ingredients include apples, parsley, and blueberries.
Every cup serving has 421 kcal/cup.
Key Features:
Glucosamine and chondroitin assist in maintaining bone and joint health to offer support for your best friend's mobility.
Omega-3 fatty acids from flaxseed and salmon oil assist in supporting your pooch's healthy skin and coat.
Made from real turkey and chicken that has been deboned, this classic recipe supports your dog's nutritional needs.
Coated with probiotics to help in your best friend's digestive health.
Full of nutrient-rich ingredients, such as kale, spinach, and broccoli.
Pros:
Highly palatable
Made with whole and fresh ingredients
Holistic nutrition
grain-free
Gluten-free
For all breeds
Corn and wheat free
---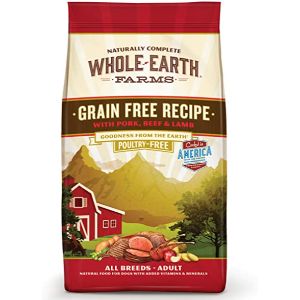 This naturally delicious dog food is made in the United States with high-quality ingredients for balanced and complete nutrition. Pet parents will love that this dog food is on the affordable side, with so much to offer their furry baby.
We truly appreciate that there are not any byproducts in this dog food. No soy, no wheat, and no corn make this product even better. Your pup will have a digestive system that is well supported to give them extra vitality. Your dog's overall health will make an improvement when this dog food is added to their diet.
The first ingredients that are listed on the bag are pork meal, potatoes, peas, sweet potatoes, pea protein, pork fat (preserved with mixed tocopherols), natural pork flavor, pork, beef, lamb, flaxseed, and sunflower oil. This canine food also features many vitamins, such as thiamine mononitrate, niacin, riboflavin supplement, biotin, vitamin D3 supplement, folic acid, and pyridoxine hydrochloride, along with several different types of dried lactobacillus.
Key features:
Healthy ingredients used in this wholesome blend.
High-quality standards are met when produced, as this is made in the USA.
Made with multiple proteins.
Includes antioxidants from blueberries and other sources.
For all breeds of dogs.
Pros:
Great for finicky eaters
Provides great energy for dogs
Grain-free
Acceptable price
Cons:
Inconsistent kibble size
The formula has been changed in the past
Certain flavors are very smelly
---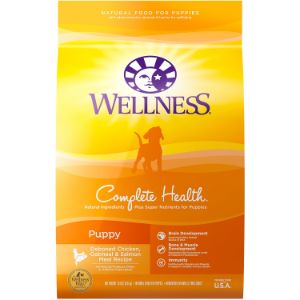 Wellness Complete Health Puppy Food is full of flavor despite its kibble's small size. Made from deboned chicken, oatmeal, and salmon meal, this dog food is specially designed for your pup's first year of life.
We appreciate Wellness took the time to add taurine to the dog food. This helps with the heart, keeping it healthy for the upcoming years your dog has to live with you.
The first ingredients listed on the bag include deboned chicken, chicken meal, oatmeal, ground barley, peas, chicken fat, salmon meal, tomato pomace, ground flaxseed, salmon oil, tomatoes, and carrots.
Wellness Complete Health assists pets to achieve five signs of wellness that stem from a completely balanced and natural nutrition diet. These five signs are:
More protein for full energy
Added Omega-3 & 6 promote skin and coat health
Calcium and phosphorus support healthy teeth and gums
Prebiotics, probiotics and healthy fiber support healthy digestion
Vitamin A and vitamin E support a healthy immune system
Key features:
Flaxseeds will help to nourish the skin and coat of your best friend.
Formulated with Yucca Schidigera extract, which helps reduce odor in the stool.
A healthy brain and eye development are supported through the extra DHA that is added.
Builds strong bones and muscles.
Contains 450 kcal/cup.
Pros:
Formulated with veggies and fruits
Contains high-quality sources of protein
Supports the puppy's complete health
Great salmon and chicken flavor pups love
Corn, wheat, and soy-free
Contains oatmeal, which is a nice alternative to carbohydrates
Makes coats shiny
AAFCO approved
Reasonable price when compared to other high-quality brands
Cons:
The taste did not hold some pup's interest
Gives some pups loose stools
---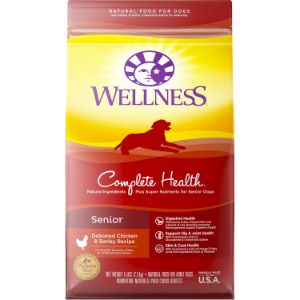 If you are looking for high-quality food to feed your senior canine, check out Wellness Complete Health Senior Deboned Dog food. This well-known brand allows your aging best friend to thrive on a diet that consists of mainly meat. With each bite they savor, a high amount of animal protein will be swallowed. This food also contains added nutritional supplements.
This pet food is for all breeds of dogs. It is flavored mostly with chicken and turkey. It is free of grains and wheat, as well as soy. There is 359 kcal/cup in this hard dog food. We appreciate that it has reduced calories, which is perfect for those dogs that need to get rid of excess fat. And if you have a senior dog with another dog, both can eat this as it has 100% adult maintenance.
The main ingredients in Wellness Complete Health include deboned turkey, chicken meal, dried ground potatoes, peas, turkey meal, lentils, tomato pomace, ground flaxseed, chicken fat (preserved with mixed tocopherols), and chickpeas. Other key ingredients include spinach, broccoli, carrots, apples, parsley, kale, taurine, blueberries, and sweet potatoes.
Key features:
Grain-free senior dry dog food.
Backed by the Wellness guarantee.
A high concentration of animal protein with added supplements.
High-quality levels of safety are used to produce the food.
Made with premium ingredients to ensure adequate nutrition for your pup.
Pros:
High in protein
Quality ingredients used
Corn, wheat, and soy free
Designed for senior dogs
Reduced-fat formula
AAFCO certified
Cons:
There may possibly be too many peas, potatoes, and chickpeas, which contribute to heart issues in dogs.
---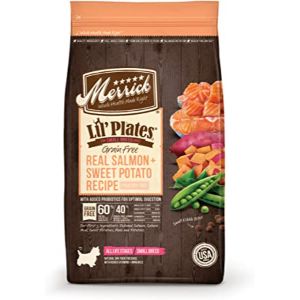 Your toy breeds will enjoy deboned meat, fish or poultry with this high-protein dog food. This balanced recipe includes plenty of fruits and veggies to keep your small best bud in his best health.
Also blended with whole grains, this food supports optimal digestion. Both Omega 3 and Omega 6 fatty acids assist in healthy skin, coat, and joint function, along with glucosamine and chondroitin. There are approximately 31.68% carbohydrates. We appreciate how such small breeds are able to obtain so much nutrition in one serving!
The first ingredients that are listed on the bag are deboned chicken, chicken meal, brown rice, barley, turkey meal, oatmeal, chicken fat, quinoa, salmon meal, natural flavor, and flaxseed.
This nutrient-dense recipe also calls for many essential vitamins, such as E, A, and B12, along with niacin, folic acid, biotin, taurine, citric acid, and zinc sulfate. Merrick knows that whole food not only are better for your pup, but taste better too. This trusted company has been around for 30 years and produces all dog food in small batches to ensure high-quality.
Key Features:
Blended with whole grains such as brown rice, quinoa, and barley for optimal digestion.
Made with high-quality meats to provide and sustain energy.
Features a great taste your tiny pup will love.
No preservatives, fillers, corn, wheat, soy, or gluten.
Full of healthy foods such as carrots and apples.
It helps in developing muscle mass.
Omega-3 and omega-6 fatty acids aid in supporting your small dog's healthy skin and coat.
Glucosamine and chondroitin provide optimal hip and joint function.
Contains 3711 kcal/kg.
Pros:
Nutrient-dense dog food with lots of calories
Gives energy and creates muscle mass
Wonderful for promoting optimal joint and hip function
Super affordable
Easily digestible
Gluten, soy, wheat, corn-free
Healthy balance of proteins, fruits, and veggies
Great for picky dogs or ones that are older
Perfect size kibbles
Cons:
Prices have increased recently
---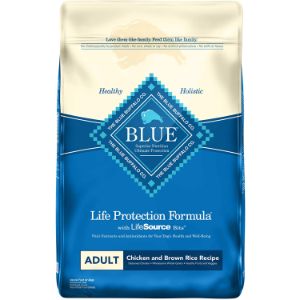 Large dogs need lots of good food and ingredients to ensure they stay healthy. Blue Buffalo Life Protection Formula does just that. This blend of ingredients is inspired by wolves diets, which have legendary endurance. This grain-free dog food is protein-rich and contains the ingredients that your pooch needs in life.
The first ingredients listed on the bag include deboned chicken, chicken meal, peas, tapioca starch, menhaden fish meal, which is a source of Omega 3 Fatty Acid, pea starch, pea protein, dried tomato pomace, natural flavor, and flaxseed. Other key ingredients are niacin (vitamin B3), calcium pantothenate (Vitamin B5), L-Ascorbyl-2-Polyphosphate (a source of vitamin C), L-Lysine, copper sulfate, biotin (vitamin B7), vitamin A supplement, copper amino acid chelate, manganese sulfate, chondroitin sulfate, manganese amino acid chelate, thiamine mononitrate (vitamin B1), riboflavin (vitamin B2), vitamin D3 supplement, vitamin B12 supplement, and pyridoxine hydrochloride (vitamin B6). We love how it is formulated with so many essential vitamins to assist large dogs in living their best life.
Blue is a company that is named after the family pet. They strive to provide the best dog food as they believe pet parents should feed their furry babies the same goodness and provide the same care they do with their human family members.
Key Features:
Formulated with high-quality protein from deboned chicken, along with L-Carnitine to help provide lean muscle and carbohydrates to assist in meeting energy needs.
Support an immune system with Essential vitamins, chelated minerals and important antioxidants
Keeps your dog's bones strong with an optimal blend of Calcium, Phosphorus, and essential vitamins.
Grain, soy, wheat, and corn-free.
Support mobility and joint function with Glucosamine and Chondroitin.
Support a healthy coat and skin with an optimal balance of Omega 3 & 6 Fatty Acids.
Contains 377 kcal/cup.
All BLUE dry food formulas contain a special blend of vitamins, minerals and antioxidants picked by holistic veterinarians and animal nutritionists to assist in promoting the immune system health, fulfill life stage requirements and support a healthy oxidative balance.
It contains calcium, phosphorus, and other essential vitamins to provide strong teeth and bones.
It helps to promote lean muscle mass with all the proteins used, along with L-Carnitine.
Pros:
Made with wholesome ingredients like apple, spinach, pumpkin, and blueberries
Promotes a healthy immune system
Contains exclusive lifesource bits
Helps dogs thrive
---
How to Choose the Right Dog Food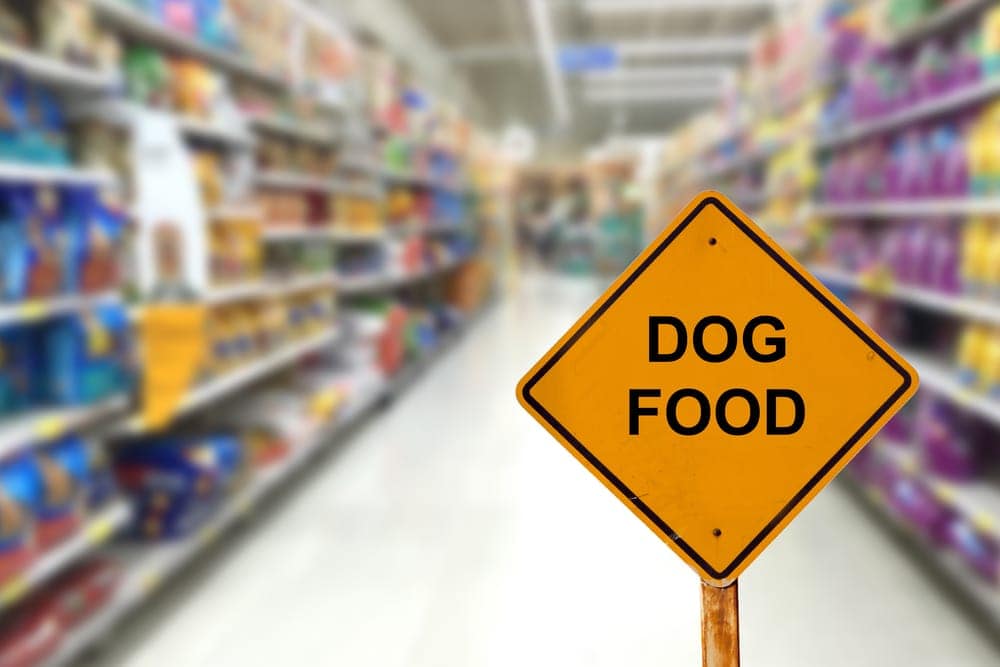 It can be confusing to know which dog food to pick for your furry family member. With so many brands and types of dog food, it is not always an easy choice. You certainly want what is best for your pup, yet you do not want to break the bank purchasing dog food for them either. Here we will provide a comprehensive guide to choosing the right dog food for your beloved pet.
Factors to Consider When Choosing the Right Dog Food
There are many factors that you will want to consider before selecting the dog food for your pup.
Age and Health of Your Dog
Just as you would not feed a baby the same as a toddler, you would not feed a puppy the same as a senior dog. A young dog will have different nutritional needs than a dog that is in their late teens. When selecting dog food, you need to know the age of your pooch, and how good their health is. If they have a health condition, such as kidney trouble, they may require a special type of food. If they have issues with their teeth, they may not be able to eat hard food very well.
Proteins, Fats, and Carbs
When reading the label of your dog food, look at the proteins and fat first, and then the carb count. Dogs require higher protein and fat content in their foods and should not eat a diet that is rich in carbohydrates.
Identifiable Ingredients
The ingredients that are listed must be clear, so you are certain as to what you are feeding your dog. It can not just say made from real meat because there is not just one type of meat. It should clearly state if it is made from beef, chicken, turkey, etc.
Best By Date
Just as you would not want to eat expired food, neither does your doggy. Look for a best by date to ensure you are feeding your pooch the freshest food possible. A best by date means that the food will not have lost any quality until up to that date. After that date, the food will begin to lose its quality.
If the dog food has an expiration date, it means that the company no longer recommends eating the food after this point. Should you decide to feed your dog with expired food, the company can not be held reliable if your pup gets sick as they basically tell you with the expiration date the food is not any good after that point.
Things to Avoid When Purchasing Dog Food
You will also want to avoid the following when purchasing dog food.
Meats that are low quality- Never purchase dog food that has low-quality meats in it. This also includes poultry byproducts. If it is questionable, avoid it.
A generic fat and protein source- A food that is labeled as "whole protein" or a "healthy fat" is not telling you much as the consumer. What source did these come from?
Any artificial ingredients- Any sweeteners, preservatives, and coloring should not be added to dog food. Only select dog food with natural ingredients. Some natural ingredients act as a preservative.
Fillers- Keep an eye out for fillers and low-quality grains. These are not nutritional for your beloved pet and do not help with their optimal health. Instead, look for dog foods that are made from barley, oatmeal, or brown rice as this will provide great health benefits.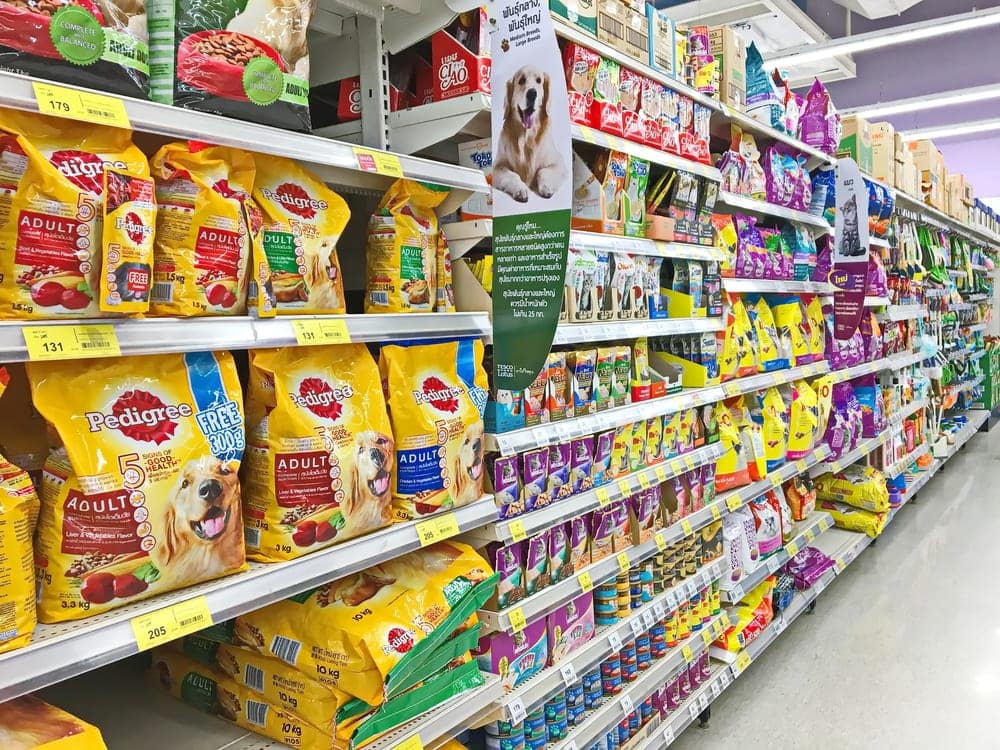 How to Read a Dog Food Label
It is very important to know how to read a dog food label in order to find the best dog food for your pooch. Dog food bags are required by the Food and Drug Administration (FDA) to list 8 different items that are key to understanding if your dog food is good enough to give your beloved fur baby. These things include:
Product name- This will tell you exactly that you are getting in your bag or can of dog food. There are guidelines that companies must follow when labeling the product. For example, if they place "beef" or "chicken" on it, it means the product contains at least 70% of this. However, if it is labeled as "beef platter" or "chicken dinner", it only needs to contain 10% of the meat. If it says "with turkey", it means there is only 3% of the total ingredients used is turkey, while "lamb flavoring" would simply mean it has up to 3% of lamb in it.
Net weight of the product
Name and address of the manufacturer
Guaranteed analysis- This section is important as it will show the minimum amount of crude protein and crude fat used in the product, while also showing the maximum amounts of crude fiber and water (moisture). Specific amounts are not provided.
List of ingredients- Unfortunately, the label of a dog food bag does not need to tell you where the ingredients came from. Or even what the quality of the ingredients is. Some manufacturers are even sneaky about this, as the order of the ingredients is listed with the most ingredients first. Therefore, if you buy a bag that states beef byproduct is the first ingredient, you will know that beef byproduct is what was used most. However, when the companies are sneaky, they can divide up products, such as corn. These will all be listed separately, such as cracked corn, kibbled corn, and flaked corn. Meat can also be something to watch for, as fresh meats have high water content. So once the meat has been processed, it will seem like there is less in the product than there really is.
Intended animal species (i.e. dog or cat)
Statement of nutritional adequacy- This statement will tell you exactly how the food was tested. It will also state which lifestage the food is recommended for. The AAFCO has 4 life stages: growth, maintenance, gestation, and lactation. If the term "all life stages" is listed on a bag, it means that it has been tested for growth.
Feeding guidelines- This will tell you exactly how much to feed your canine based on the weight of your pup. These guidelines will tell you if you are over or underfeeding your pet.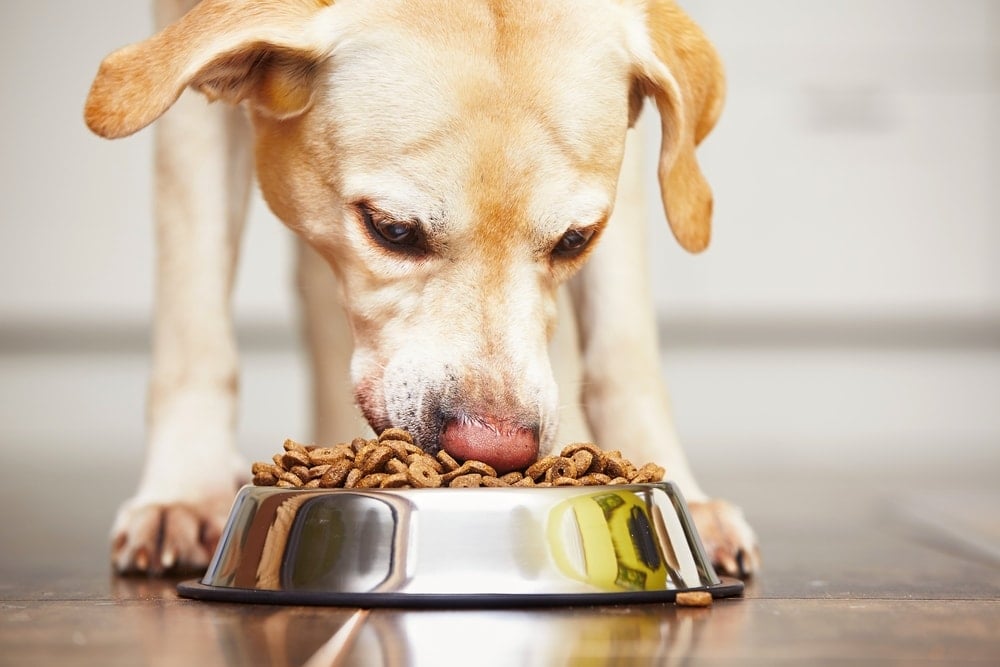 Dog Food Types
There are various types of foods that are on the market for your canine: dry foods, canned foods, and semi-moist foods.
Dry Dog Food
Dry dog food is the most popular type of dog food in the United States and many other countries. Typically, they contain 90% dry ingredients and 10% water. About 95% of dry dog foods on the market have been extruded.
Many prefer to use dry dog food as it is generally less expensive than canned or semi-moist foods. You also do not need to refrigerate any unused portions. The hard food can also help the teeth by massaging the gums and removing plaque or tartar.
Canned Dog Food
Canned dog food contains 68-78% water and 22-32% dry matter. Generally, these foods will contain a higher amount of fresh or frozen meat, poultry, or fish due to higher water amounts. The texture of the food may come with grains.
Canned dog food is made by blending the water with the dry ingredients and adding extra vitamins and minerals if needed. Sometimes it will be ground up depending on which food is being made. Cans are then filled, sealed and retorted, which destroys foodborne pathogens.
Even though canned dog food is more expensive than dry dog food, it has a longer shelf life. Many also have more palatability to them.
Semi-moist Dog Food
Semi-moist dog food contains 25-45% water and 60-75% dry matter. This type of food is preserved by humectants and will not require any refrigeration. While these foods are very convenient for dog owners, they do contain salt, sucrose, sorbitol, and propylene glycol.
Transitioning to a New Dog Food
If you have purchased a new dog food that your furball has never had before, you will want to slowly transition them from the old food to the new food.
A great way to do this is to slowly introduce the new dog food. If you feed your Great Dane 2 cups at a time, give them 1.5 cups of old food and ½ cup new food. Gradually (every 3 to 5 days) cut back so it is half and half, then ¼ old brand to ¾ new brand.
Transitioning helps your dog get used to the new food so it is not a shock to their digestive tract. You will also be able to monitor if any reactions occur.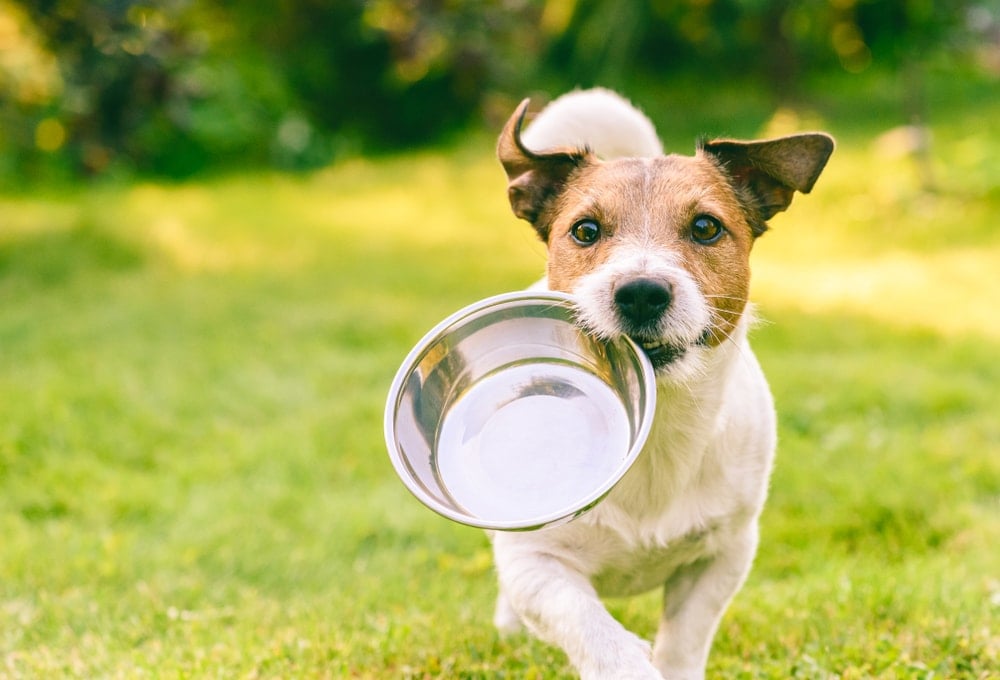 Frequently Asked Questions About Dog Food
What does "complete and balanced" mean?
Many times food will be labeled as "Complete and balanced".  This means that dog food contains all nutrients that are required by dogs and that the nutrients are balanced for the energy density of a pups diet.
What is AAFCO?
The AAFCO is the Association of Animal Feed Control Officials.  This is a voluntary group made of local, state, and federal agencies.  They regulate the sale and distribution of both animal feeds and animal drug remedies.
What does it mean when a dry dog food has been extruded?
When a food has been extruded, it simply means the ingredients have been combined and cooked, then forced through a die.  The starches in ingredients are then allowed to be easily digested by your pooch with toxins being destroyed.  Flash sterilization also occurs at this point.  While the food is drying, it will be coated with fat to make it have better palatability.
What is the best way to store dry dog food?
Dog food will stay fresh anywhere from 2 to 6 weeks after it has been opened. It is best to keep the dog food in the bag it comes in, as manufacturers have designed the bag for the food to stay fresh and protected.  When opening the bag, only open it enough to get the food out.  Then seal the bag shut.  If there is not a seal, roll the bag down and secure with a clip
 To maintain freshness, find a storage container that has a secure-fitting lid to keep the dog food.  These storage containers come in a wide variety of sizes and shapes, as well as different materials such as plastic, glass, or metal.  You may simply place the entire bag in the storage container. 
Does dry dog food go bad in the heat?
Yes, dog food that has been exposed to heat can go bad. It can take as little as 2 weeks for this to happen. 
Food should also not be exposed to air or humidity as this will make the food degrade.
What are some ingredients to avoid in dog food?
Always look at the ingredients that are listed in your dog food.  Be on the lookout for dyes, sugar and high salt, which may be used as preservatives.   Look for solvents and preservatives like propylene glycol, BHA, BHT, and ethoxyquin.
What does it mean for dog food to be organic?
When your dog food is labeled as organic, it means that it is certified to be free of any antibiotics, preservatives, synthetic hormones, and toxic pesticides.  None of the ingredients have been chemically engineered or modified.
Does organic dog food mean the same as natural?
No organic and natural are not the same thing.  Natural dog foods are not as regulated as organic.
What should you do if your pup does not like dry food?
If your pup is not used to dry food, you can make it more appealing by adding some canned food on top of it.  Or you may add some fresh meat, such as chicken, turkey, or beef.  There are also some toppers that you can purchase online or at various pet stores.
How do I know it is time to change dog food?
There are some specific reasons when you need to change your dog food, even if your pup really likes the taste of the food you are currently buying.  These reasons include itching, diarrhea, your dog can not maintain their weight, a dull coat, and being lethargic. 
Remember that when switching foods, do so slowly to have the best results possible.
Can you soften dry dog food?
Yes, you can soften dry dog food. This is helpful if you have a dog that has dental issues.  The best way to do this is to add a few tablespoons of warm water to some dry kibble in a bowl.  Allow it to sit for a few minutes.  If the food is not mushy enough for your pup to eat, you can always add more water.
What can one do for a picky dog?
If your dog does not like the dog food you have purchased, you can try to pour some low sodium beef or chicken broth over the dry kibble.  Tuna water can also be poured over the food.  This too can be used to soften the food. You may also consider adding some milk to the dry food.  Sliced up meat, a few of their favorite treats, or pieces of cheese may also tempt your pup into eating the food.
Conclusion
Dogs are an important part of many people's life and are not only man's best friend, but also a family member. This is why so many are on the hunt to find the best dog food available. We hope that you have enjoyed reading our reviews of the best dog food, and that you learned a lot from our best dog food buyer's guide. You should now be able to make an educated decision on which dog food is best for your pooch.
Was this article helpful?