Some human foods are not safe for cats to eat, while others are in moderation.
Pumpkin is a very popular flavor that many people enjoy, especially in the fall season each year. But are these foods okay for your cat? The answer is not a simple one, so you'll need to educate yourself.
Is Pumpkin Dangerous for Cats?
Pumpkin itself isn't dangerous for cats, but foods with use artificial pumpkin flavoring can be. It is therefore important that you take a close look at any food that has these types of ingredients. You should avoid giving your kitty any foods that have artificial ingredients, as they tend to be bad or even toxic for these animals and perfectly if you will keep it on proper cat food.
Nutritional Benefits of Pumpkin
There are lots of nutritional benefits associated with giving pumpkin to your cats. You should consider some of these benefits before deciding what to do.
1. Vitamins
Pumpkin contains a lot of vitamins that are highly beneficial to your cat's overall health. This includes vitamin A, which can strengthen and help with maintaining your cat's immune system. There's also vitamin C, which his good for your cat's skin. The vitamin E in this food has powerful antioxidant properties that can also help keep your pet healthy.
2. Minerals
The numerous minerals that are in pumpkin are also worth considering. This includes calcium, which plays an important role in keeping your cat's bones strong over the years. It is also very good for their teeth.
This food also has a decent amount of iron, which helps with cellular oxidation and hemoglobin production. The lutein in pumpkin helps with keeping your cat's coat, skin and eyes as healthy as possible.

3. Hairball Control
One of the best things about pumpkin is the fact that it can help with keeping your cat's hairballs under control. This ultimately makes your cat healthier as a whole.
4. Digestive Health
Giving your cat a little bit of pumpkin sometimes can help support your kitty's digestive health. It contains a lot of fiber, which means that they are less likely to become constipated. This can be a serious issue with felines, so you'll want to keep that in mind as well.
The high levels of fiber in pumpkin can also help you maintain a healthy overall weight for your cat. The last thing you want is for them to become obese, as there are lots of health issues associated with this.
Can My Cat Have Pumpkin Seeds?
Pumpkin seeds are also very nutritious for cats in moderation, but you'll need to clean them thoroughly before roasting. Put the seeds in an oven that has been preheated to 350 degrees Fahrenheit for about an hour.
Tips for Giving Your Cat Pumpkin
There are some important tips that you should keep in mind when it comes to feeding your cat pumpkin.
1. You Can't Give Them Just Any Part of a Pumpkin
Keep in mind that there are certain parts of a pumpkin that your kitty should not eat, including the stem and the pulp. These parts are just too difficult for cats to digest, so you shouldn't give them any just to be safe.
2. Don't Use Any Spices or Dressings
When you serve your cat pumpkin, you should avoid putting any spices or other things on it for additional flavoring. This will greatly reduce the chances of a negative reaction with your cat.
3. Limit Them to a Teaspoon per Day
While it's true that pumpkin is very healthy and good for your cat, you should avoid giving them more than a teaspoon of it each day. This will provide them with all the health benefits without running the risk of excess weight gain.
If you are going to give your cat pumpkin seeds, you should start off by giving them only a very small fraction of a teaspoon. You'll want to check with your veterinarian before giving them any more than this.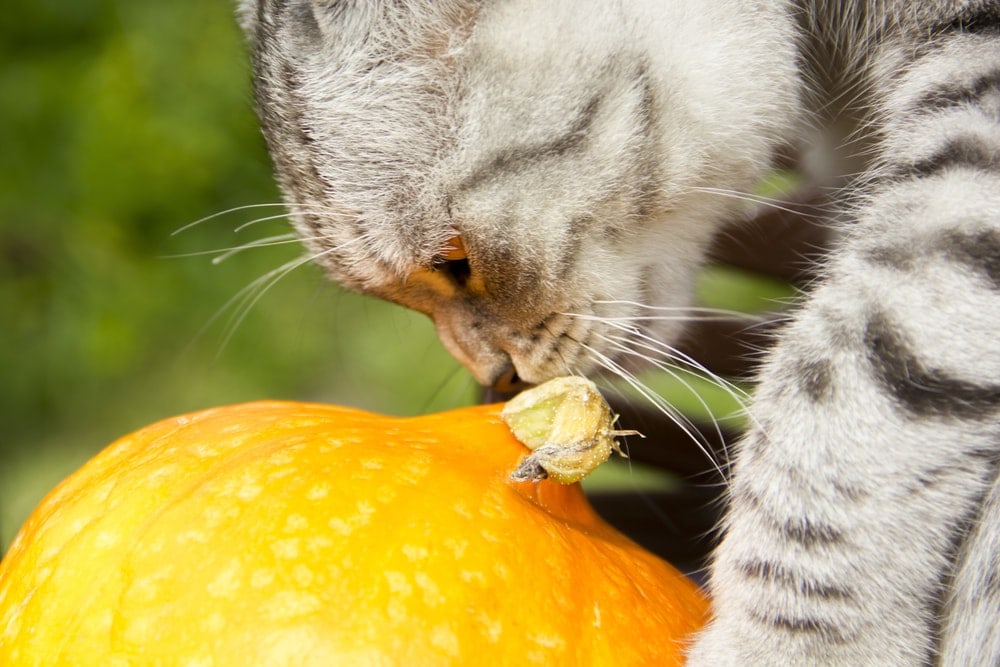 4. Give Them Pumpkin for Cats
You can actually by the unsweetened canned pumpkin that is specifically made for cats and dogs. This is the best option for your feline, so you'll want to think about doing this. You should be able to find these pumpkin products online if not in any of your local stores.
You will be able to put the pumpkin in with your cat's regular food. These animals tend to love the taste of pumpkin, so you shouldn't have to encourage them to eat it.
There are even special pumpkin treats that you can buy for cats in pet supply stores as well as online. Most felines go absolutely crazy for them, but they are only good in moderation. Treats like these should not make up more than ten percent of your kitty's total diet.
5. Don't Give Them a Piece of An Old Jack-o-Lantern
It is not a good idea to give your cat a piece of an old jack-o-lantern to eat, as it's possible that part of it rotted since you put it outside. You don't want your cat to eat any food that isn't completely fresh, as it poses a potential threat to their health.
Conclusion
Pumpkin itself is not dangerous for cats, and it actually offers a number of nutritional benefits.
You should avoid giving your cat any foods with artificial pumpkin flavorings.
The many different vitamins and minerals that are found in pumpkin can benefit your cat's skin, digestive system, immune system, and bones.
Giving your kitty this food in moderation can also help to keep their hairballs under control.
Make sure that you only give your cat a little bit of pumpkin to start with.
It is not a good idea to give them more than a teaspoon of pumpkin per day.
You should consider buying canned unsweetened pumpkin that is made just for cats and dogs.
You don't want to put any spices or dressings on the pumpkin you feed your cat, as this increases the chances of a negative reaction.
Keep a close eye on your cat after giving it pumpkin for the first time. If you notice any vomiting, diarrhea or lethargic behavior, get them to the vet right away.
Was this article helpful?